Friends don't let friends look too dorky in the woods.
High-waisted hiking pants with tucked-in shirts, socks with sandals, cotton dresses on rainy, windy days—we've all made big mistakes on hiking dates. No? Well, maybe it's just me.
Either way, I enlisted the help of apparel designer Neenah Maier and got her advice on how to make a good impression on a date in the woods. She's been crafting REI Co-op brand clothing for the last six years. She also happens to be an avid hiker, runner and traveler who has been married to—and planning dates with—her husband for more than six years. (Her favorite hiking date spot? Tolmie Peak Lookout in Mount Rainier National Park, which she hiked on her last birthday without a cloud in the sky.)
"On a date, you're getting to know one another, so it's important to express yourself with your outfit," Neenah said. Inspired by the change of the season, she styled three outfits, perfect for your next outdoor date. For each, she imagined people who love the outdoors and want to look good without sacrificing performance.
While Neenah's super-savvy comments about her style choices won't save you from seven straight hours of awkward small talk to, during and from the trail on your first date (true story), they will ensure you look good while it's happening.
For Her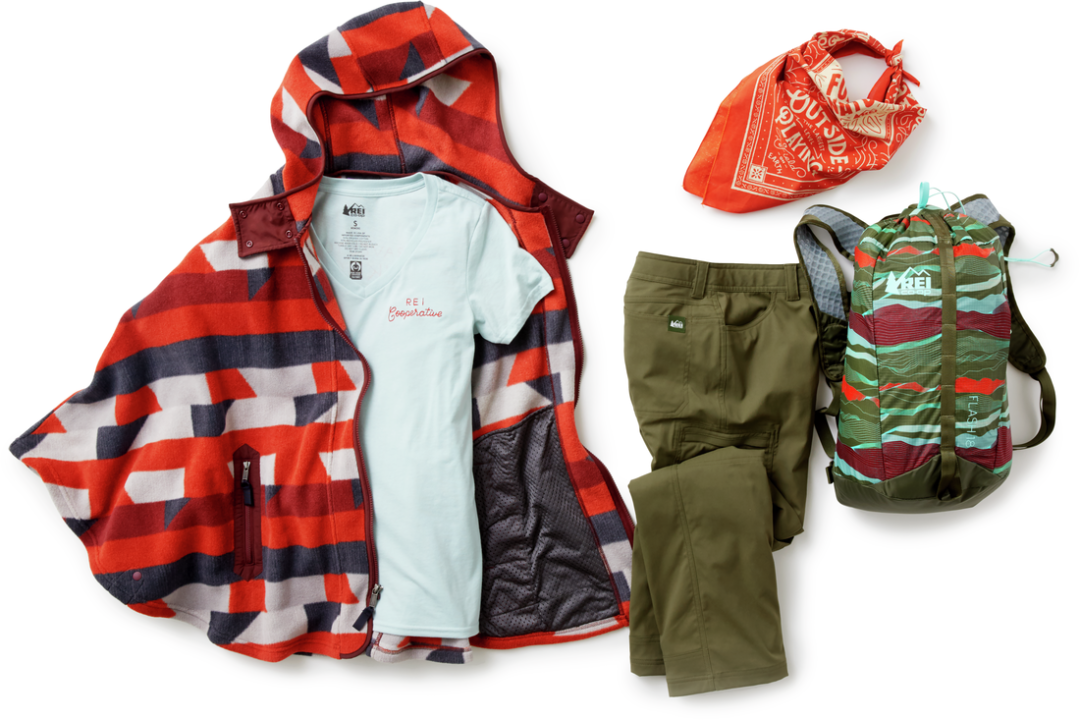 The women's REI Co-op Taereen Cargo pants offer a clean and simple aesthetic while maintaining trail function. They will wick sweat, repel dust or moisture, stretch with movement and still look cute in town! Try cuffing the hem atop your favorite retro hiking boots, like these from Vasque. The V-neck Co-op tee and Force of Nature bandana are a cute pair, and express outdoor enthusiasm and confidence. The Patagonia fleece poncho is a cozy, easy-to-wear piece that will safeguard you from an early morning or evening chill. I love how the orange hues of the bandana accent the poncho. Lastly, you should never go on a hike unprepared, and the Flash 18 pack in the new strata print is a fun, colorful way to carry the Ten Essentials.
Expert's tip: You're a complex person, so show off your layers on a date. Pick clothing with unique functions, and add or subtract those layers to adapt to changing conditions. For more details, read our Expert Advice on Layering Basics.
For Him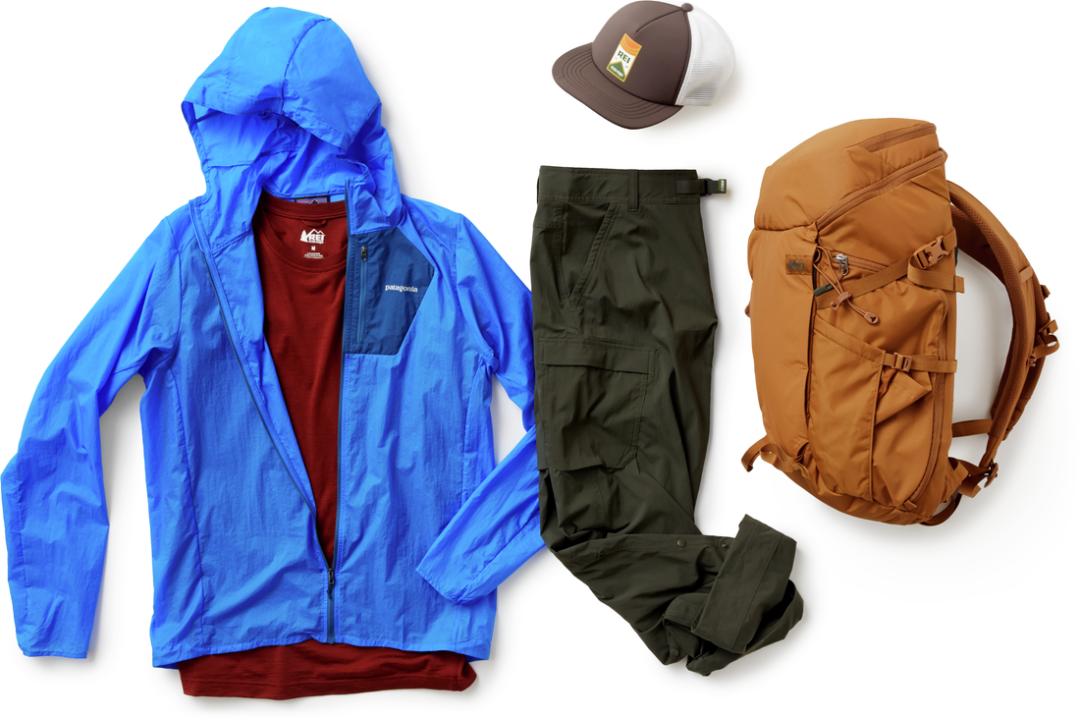 The men's Taereen Cargo pants have a modern, rugged look that can flex from town to trail, so you don't have to sacrifice performance for style. The dark green pants pair well with the iconic red laces of the Danner boots. The REI Co-op Taereen T-shirt, made with a cozy merino-wool blend, is super-soft and naturally odor resistant (so there's no post-hike stink). Ward off any chill with a lightweight windbreaker, like the Patagonia Houdini zip-front jacket, that easily packs away when you don't need it. It also adds a nice pop of color when layered over a rich earth-tone tee. The REI technical trucker hat is a must-have for any man's outdoorsy style and offers the sun protection you need when outside. The Ruckpack 18 is the perfect day-trip companion, with plenty of storage and organization to pack the Ten Essentials and trail snacks for two!
Expert's tip: The heat of a date shouldn't be caused by hot spots from ill-fitting shoes. Spend some time finding good hiking boots or trail shoes. Find our Expert Advice on how to choose hiking boots here.
For Everyone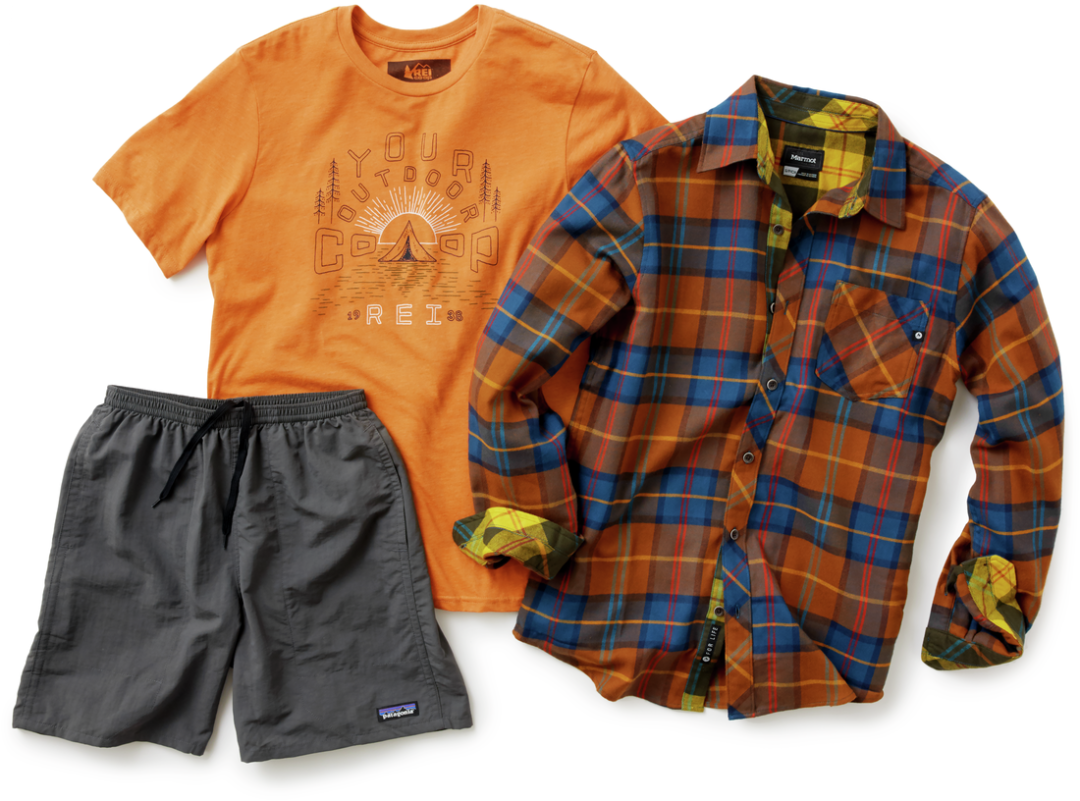 This is the outdoor enthusiast's uniform. If it isn't in your closet already, you need it now. Because who doesn't love a T-shirt and flannel? Show your love for the co-op with the fun, '60s throwback tee paired with a soft and classic Marmot flannel. Top it off with the Patagonia Baggies and Chaco Z/1 Classic sandals and you're ready to go.
Expert's tip: You're probably prepared for all those getting-to-know you questions (quick: if you were a shoe, what kind would you be?). You should also be ready for conditions to turn cooler, wetter or hotter than predicted. Forcasts can be off and your climate-controlled exit vehicle is many miles away.