When you step outdoors, the ancient art of layering becomes your smart-technology thermostat. This tried-and-true strategy lets you regulate comfort by slipping layers on and off as your activity level or the weather changes.
How to layer: To understand layering your clothing for outdoor activities, you need to know the function of each layer:
Base layer (underwear layer): wicks sweat off your skin
Middle layer (insulating layer): retains body heat to protect you from the cold
Outer layer (shell layer): shields you from wind and rain
Even if you don't wear all three layers at the outset, it's a good idea to take all layers on every outing: You can peel off layers if things heat up, but you can't put on layers that you didn't bring along.
Cold, Rainy and Hot Layering Examples
We're often asked about how to layer for certain weather. Any suggestions based solely on weather, though, overlook key considerations, like exertion level and personal metabolism. The examples below are for a hypothetical person who doesn't run particularly hot or cold, who is going on an intermediate-level half-day hike: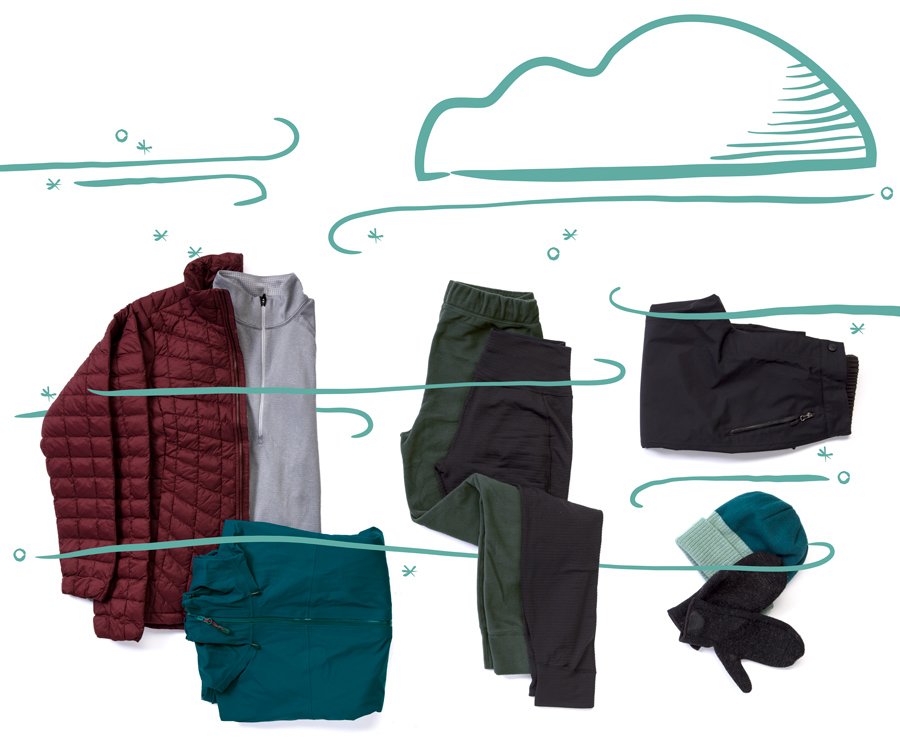 Cold-weather layers:
Midweight polyester long underwear top and bottom; a jacket with synthetic insulation; midweight fleece pants; waterproof/breathable rain jacket and pants.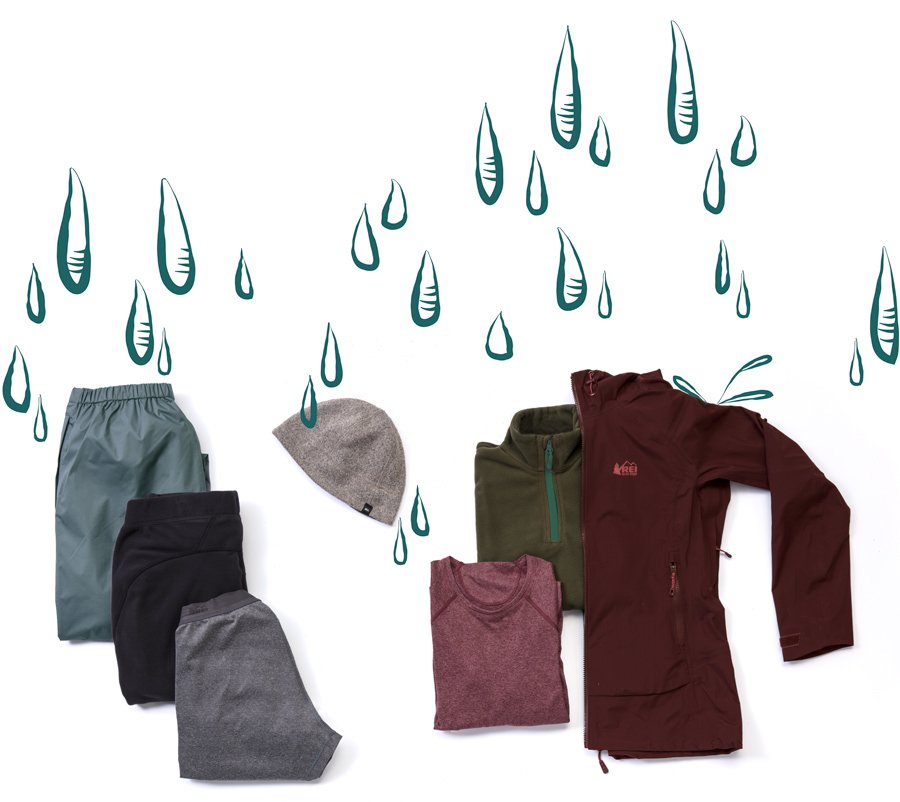 Rainy-weather layers (cool temps):
Lightweight polyester long underwear top and bottom; lightweight fleece jacket; synthetic hiking pants; lightweight waterproof/breathable rain jacket and pants (with plenty of vents).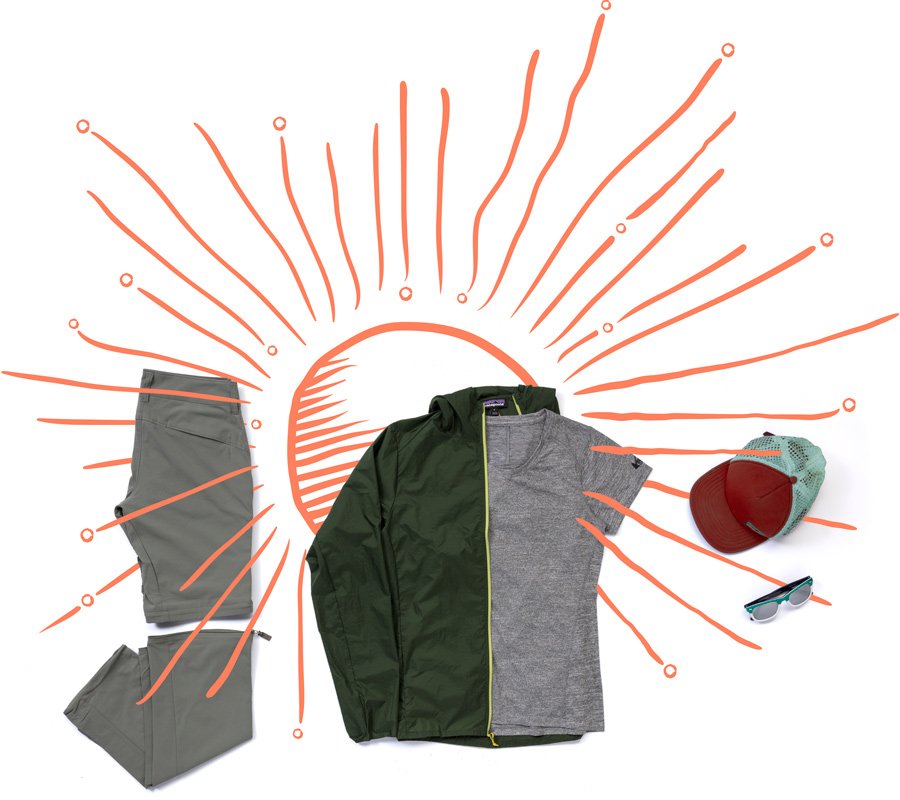 Hot-weather layers:
Polyester briefs and a short-sleeve synthetic Tee; convertible nylon hiking pants; lightweight wind jacket.
You have literally dozens of alternatives and options for each of these layers. The trick is to go with options that make the most sense for where you're headed, what you're doing and what you're able to spend.
It's also key that you take the time to adjust layers as conditions change. If the rain and wind let up, remove your shell. If hiking alone isn't warming you up, add a middle layer. And many people add a middle layer (on top) and/or outer layer at every rest stop, just to avoid getting chilled.
Base Layer: Moisture Management
As the next-to-skin layer, a base layer's job is moving perspiration away from your skin, aka "wicking." In cool or cold conditions, wicking long-underwear-style base layers are needed to keep your skin dry. That's essential because it helps to keep you from becoming chilled or worse—hypothermic.
Base layer materials: You have a wide range of fabric options, including synthetics like polyester and nylon, or natural fibers like merino wool and silk. Though there are subtle differences in wicking and drying for each material, and in odor retention and durability, a lot people simply go with their personal fabric preference. For a detailed discussion of base layer materials, read How to Choose Base Layers.
Base layer weights: Your options are straightforward—lightweight, midweight and heavyweight—though you might also see terms like "ultralightweight" on one end of the spectrum or "expedition weight" at the other. Generally, heavier (thicker) fabrics keep you warmer, though that's not really the primary purpose of a base layer (wicking is).
Warm-weather base layers: Long underwear might not be appealing when temperatures soar, but having dry skin generally makes you more comfortable in all conditions. (No one likes having clammy, drippy skin.) Here are some other warm-weather base-layer considerations:
Any summer shirt is really a base layer, so look for ones that offer wicking.
Some shirts designed for warm weather spread the moisture out through the fabric, where evaporation helps with cooling. They won't really be marketed as a base layer, but as your next-to-skin layer they can increase your comfort in hot conditions.
Underwear like briefs, boxers and bras should also wick (the same is true when you wear it under your long underwear in winter).
UPF-rated base layers give you added sun protection. Read How to Choose Sun Protection (UPF) Clothing for more details.
Cotton, considered a no-no in winter because it sponges up water and can chill you, can be okay if you're outside on a super-dry, scorching summer day.
Emerging fabric technologies, like wool infused with ceramic particles, will offer base layers that literally cool your skin for greater comfort.
Shop Base Layers and Underwear
Middle Layer: Insulation
The insulating layer helps you retain the heat that's radiated by your body. The more efficiently this layer traps that heat, the warmer you'll be.
Middle layer materials: Just as with base layers, you have a broad range of options, both synthetic and natural. In general, thicker (or puffier) equals warmer, though the efficiency of the insulating material is also important. Below are some common middle layer materials, though other options, like wool and wool-blend tops, are also available.
Here are some of your primary choices for middle layers:
Polyester fleece: Available in lightweight, midweight and heavyweight fabrics (sometimes marketed as 100, 200 and 300 weight), fleece stays warm even if gets damp, and it dries fast. Fleece also breathes well, so you're less likely to overheat in it.
The flipside of breathability, though, is that wind blows right through, which can steal warmth. That's why you need to have a shell layer with you if you're going with a fleece middle layer. (Another option is to wear wind fleece, which includes an inner wind-blocking membrane.)
Down insulated jackets: Highly compressible for easy packing, down offers more warmth for its weight than any other insulating material. The efficiency of down is measured in fill power—from 450 to 900. Because down is always inside a shell material, down jackets also offer some water and wind resistance. The drawback to down is that it loses insulating efficiency when damp.
Synthetic insulated jackets: Synthetic insulations have long tried to mimic down's efficiency, coming closer to that standard every year. And, while synthetics don't compress as well as down, they're a popular option for rainy conditions because they retain insulating ability when they get damp. And, like down, synthetic insulation is always inside a shell material that offers added water- and wind resistance.
For more details, read How to Choose Insulated Outerwear and Down vs. Synthetic: Which Insulation is Right for You?
Outer Layer: Rain and Wind Protection
The outer layer (or shell layer) protects you from wind, rain and snow. Shells range from pricey mountaineering jackets to simple wind-resistant jackets. Most allow at least some perspiration to escape; virtually all are treated with a durable water repellent (DWR) finish to make water bead up and roll off the fabric.
Your outer shell is an important piece in stormy weather, because if wind and water are allowed to penetrate to inner layers, you can get seriously chilled.
Shells can be lumped into the following categories:
Waterproof/breathable shells: Your most functional (and expensive) choice, this type of shell is your best option for full-on squall conditions. Generally, pricier equals drier, though higher priced shells are often more durable as well.
Water-resistant/breathable shells: These are more suited to drizzly, breezy conditions and high activity levels. More affordable than waterproof/breathable shells, they're typically made of tightly woven nylon or polyester fabrics that block light wind and light rain.
For more details, read How to Choose Rainwear.
Soft shells: These emphasize breathability. Most feature stretch fabric or fabric panels for added comfort during aerobic activities. Many combine light rain and wind protection with light insulation, so they in effect combine two layers into a single jacket.
Waterproof/nonbreathable shells: These bare-bones shells are okay for rainy days with light to no activity (e.g., fishing, spectating). They are typically made of a coated nylon, which is water- and windproof. If you exert yourself while wearing one, you'll probably end up saturating your underneath layers with perspiration.
Video: What to wear camping - layering basics
Related Articles