What to bring, wear, eat, drink and where to go.

Fall is one of our favorite times to backpack. There are fewer crowds, fewer bugs and fewer blazing-hot climbs. Plus, there is nothing better than hunkering down in your sleeping bag, worn out from a long hike, in cooler temperatures, surrounded by turning leaves.
Before you hit the trail, there are some considerations to take into account that are specific to fall backpacking. We talked to three experts from around the co-op to bring you everything you need to know.
What Gear to Bring
1. A good tent. We're obsessed with the NEMO Hornet, because it's just two pounds while still offering much-needed weather protection. "Prepare for freezing weather and winter-like conditions, especially at night: cold-weather sleeping bag, insulated pad, winter hat and gloves, and maybe even a 4-season tent if you're going up to higher altitudes," says Logan Jenott, REI employee and backpacking expert who wanders most often in the North Cascades.
2. All of your tent stakes. With the winds and weather in the fall, you want them all. Be sure to properly stake your tent and fly—this helps ensure the wind doesn't drive you crazy. Way more importantly, it will keep you dry. Tip: In fall it's even more important to pitch your tent as soon as you get to camp (i.e., before dark) and make sure you dry it out first thing when you get home (as you definitely don't want to let a wet tent sit and mildew for the rest of the winter).
3. A good headlamp. Customers rank the Petzl Tikka as their favorite. Pick a headlamp with an adjustable beam, regulated output (so it doesn't dim as batteries drain) and a red-light mode for in-camp, nighttime use. While you're contemplating options, be sure to consider rechargeable headlamps. And don't forget that days are getting shorter. Check when the sun sets and give yourself plenty of time to get camp ready before the sun goes down.
4. Extra batteries. The longer nights mean longer hours with your headlamp on. Also, "The cold drains batteries quickly so it's good to have some backups," says Ashley Brown, REI employee, Pacific Crest Trail thru-hiker and self-professed gear nerd. We like the Goal Zero AAA's because they're rechargeable.
5. A warm sleeping pad. Don't let the cold ground suck away your body heat. Check the R-value of your pad before you go. We pick the NEMO Tensor, which merges ultralight fabrics and warm insulation. The higher the number on a scale of 1.0 to 9.5, the better you can expect it to insulate you from cold surfaces (R3 and above is best for the fall). Bringing an additional sleeping pad, like the Therm-a-Rest Z Lite Sol, will keep you even more insulated against the ground. Plus, it can double as a sit pad.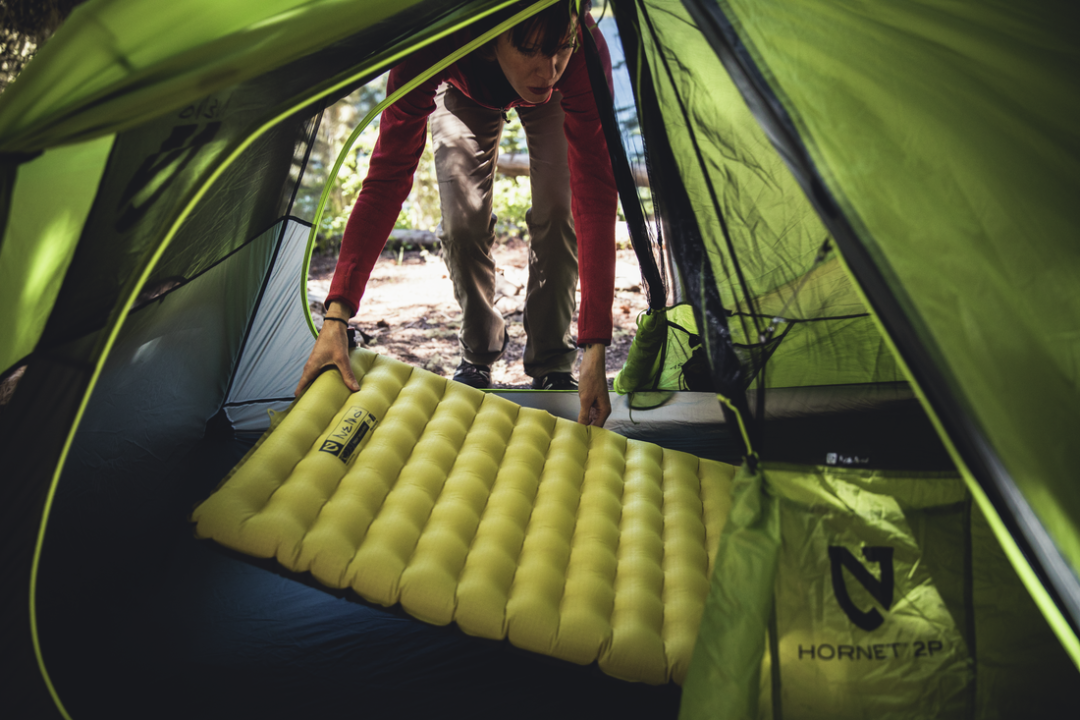 6. A warm sleeping bag. Bring a bag rated 10 degrees lower than the nighttime low you're expecting, just in case. Also, remember that your old sleeping bag can lose its insulating properties over the years. Always store a down bag loosely and clean it properly. Don't have a warm-enough bag? If you're looking for a new bag, try the NEMO Rave 15. If not, bring two summer bags, add a mummy liner or put your pad and bag in a bivy sack for extra warmth.
7. A hard-sided water bottle. "A Nalgene full of hot water makes a great heater, just be careful to screw the top on tight when using inside your sleeping bag," says Ashley.
8. Extra fuel. Colder temperatures mean longer cooking times. Plus, you'll want enough to make that hot water bottle to snuggle with in your sleeping bag at bedtime. Just remember, you can't ship or fly with pressurized fuel canisters—or liquid gas, for that matter—so head to the REI nearest your destination to purchase more.
9. A thermos. While your Nalgene is perfect as a sleeping bag warmer (because it allows heat to escape), you'll want a vessel that keeps the heat in, too. "I bring my insulated Hydro Flask to whip up hot beverages. Being able to close and shake the bottle helps mix up the powder," says Nici Bissonnette, REI employee who spent half her childhood in the mountains backpacking, and has never stopped.
10. A bear can. Did you know that fall is prime mating time for many animals? Be sure to avoid any wildlife and to utilize bear cans, hangs or lockers to avoid attracting animals to your campsite. Need one? Click here.
11. Gear that works. Haven't used your gear in a while? Check that all the zippers work and your tent fly is free of rips—you'll be glad you have your stuff in proper working order before you get to your camp spot.
What to Wear
1. Layers. Layering is key, as our experts will tell you. You need wool, fleece or synthetic base layers to wick moisture away and keep you warm, even when wet. (Remember the adage: Cotton kills.) Ashley always carries a wool long-underwear top and bottom, sleep socks, extra socks and underwear, a rain jacket, beanie and puffy. "For fall, I throw in gloves, an extra fleece layer and possibly rain pants," she adds. And it's not only cold weather you should worry about. "Be prepared for summer-like heat during the day. Bring adaptable clothing layers to stay comfortable in a wide range of temperatures: sun, rain and wind." says Logan.
2. A rain jacket. Fall weather can be unpredictable—but in many places, you can almost guarantee rain. Rain jackets do more than just protect you from moisture: "Don't underestimate the ability of your rain jacket to retain warmth as an extra layer in camp," says Ashley.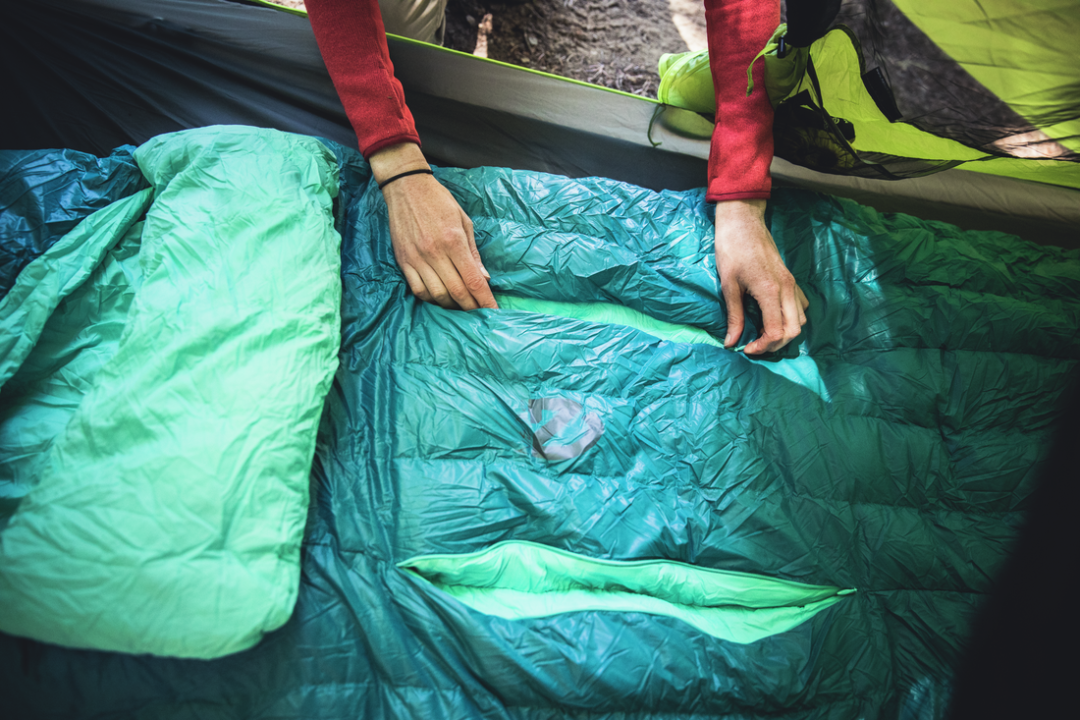 4. Gaiters. Fall weather is weird. Overnight or morning rain can soak the brush and trail, then the sun comes out, turning the day beautiful. "I often wear shorts with gaiters, as it is still warm, but the gaiters keep my feet and boots dry," says Nici.
5. Down booties. Avid cold-weather hikers like Logan swear by down booties, whether for keeping warm by the campfire or adding additional toastiness in your sleeping bag. Warm feet are more than worth the extra ounces in pack weight, and they shrink down small.
5. Bright clothing. "Check local hunting regulations for season dates; wear high-visibility clothing if you're backpacking through active hunting areas (put your dog in something high-vis too!)," says Logan.
6. Quick-dry clothes. If there is any chance you're going to get wet (and there always is), quick-dry clothing is a must. Pro tip: Stuff any damp (not soaking wet) items at the bottom of your sleeping bag before bed. You'll reduce the space your body needs to heat and your clothes will dry out overnight.
What to Eat and Drink
1. Simple meals. Keep it simple. If weather conditions turn terrible, you'll be happy if you only need to boil water and wait. We love pre-packaged boil-and-go options—or you can try our tasty gas-station backpacking menu.
2. Appetizers. Try packing an appetizer to keep your core temperature up at camp before or while you're preparing your dinner. An easy favorite? Homemade granola bars.
3. Dessert. We recommend s'mores, but any fatty food can help keep you warm as your body works to digest it.
4. Extra food. Just sitting around keeping yourself warm takes calories—so pack extra food. And now is the time to enjoy carbs and fats. Good fats like the ones found in fish, nuts and avocados help keep your internal temperatures up.
5. Hot beverages. It's for more than just your enjoyment—your body needs liquid to regulate your core temperature. Did you know that dehydration is more likely to occur in the fall because your body doesn't have sweat and thirst to cue you to take a drink? If you're looking for a beverage, look no further than homemade hot cocoa. "I make my own cocoa mix that contains protein, cocoa and coconut powder. It can be dressed up with chile peppers for Mexican-style cocoa, or Irish cream or peppermint schnapps," says Nici.
6. Enough water. Water is essential—but it might not be as readily accessible as it is during other seasons. "At the end of the summer, depending on where you are, water sources can dry up. Make sure you know where you will get water," says Nici. Speaking of which, go empty your bladder one last time before you sleep—you'll be glad you did when you don't have to crawl out of your warm sleeping bag in the middle of the night.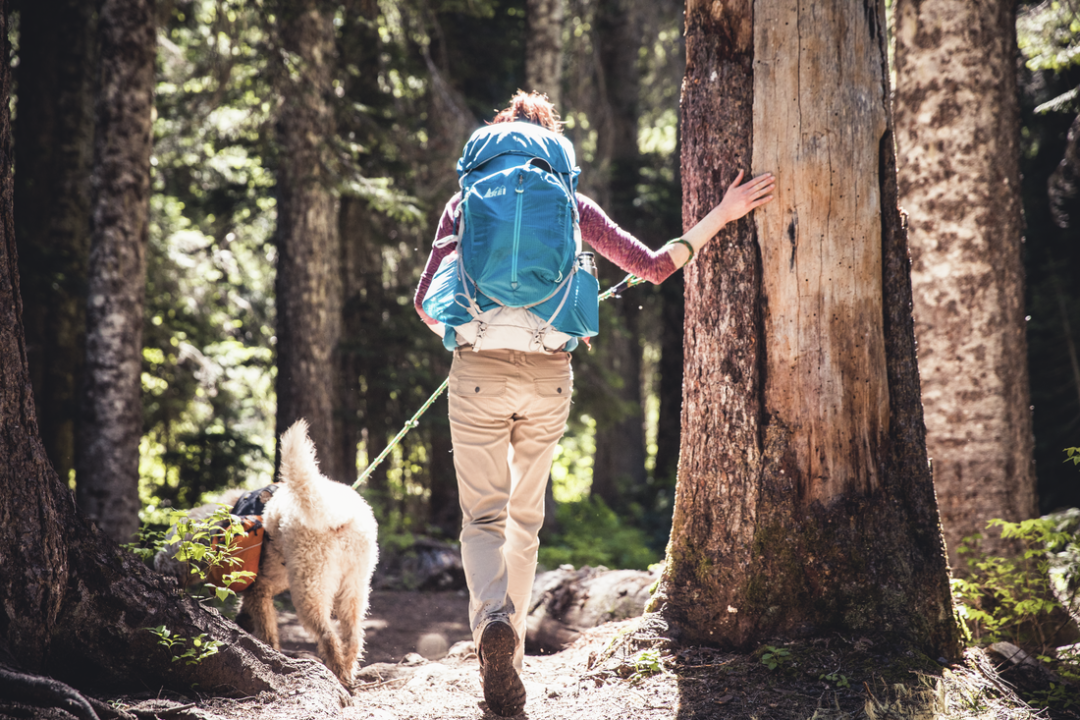 Where to Go
1. Where the weather is good. "Fall is when weather begins to become less predictable again. Always look at weather in advance and prepare for it, but know that conditions changing is always a possibility (I've been snowed out of the North Cascades in Washington in August)," says Nici.
2. Where the parks are open. Before you go, double-check that roads and campgrounds are open. Many parks, roads and campgrounds close fall through spring, which can be disappointing if you drive a long way only to find a locked gate.
3. Where the colors are perfect. Fall is the time to seek out beautiful leaves. "Plan destinations with fall colors!" says Logan. And if you can, Ashley suggests seeking out a larch hike—the Western larch, which only grow in the Pacific Northwest, turn golden in fall and are well-worth the trek. Don't know where the leaves are? You need this map.
4. Where the camping is protected. Pick the right tent spot that will shelter you from the elements. Avoid bodies of water and low-lying areas, which tend to be cooler. And, if wind is an issue, hug your tent up near boulders, trees or even tall brush or grass to block it. Bonus: Find a place where the sun will hit you in the morning (and stay in camp to really enjoy it!).
We suggest:
1. Neighbor Mountain–Jeremys Run Loop, Shenandoah National Park, Virginia
With more than 850 wildflower varieties, this park is the place to see vibrant displays, even in the fall. Our favorite backpacking loop? The 14-mile Neighbor Mountain–Jeremys Run Loop is strenuous, but worth it: You'll probably get to see wild sunflowers at their iconic peak, which spans into early October.
2. Pemi Loop, White Mountain National Forest, New Hampshire
Technical and challenging, this 29.4-mile loop is the place to go for fall foliage. Plus, once you head above the treeline, you can view the entire hike—so you can see your progress throughout the day. Dogs are allowed off-leash, so this is an ideal spot to take your furry friends.
3. Bear Wallow to Lake Peak, Hyde Memorial State Park, New Mexico
Find yourself climbing straight into the clouds with this steep, 15.8-mile climb. The stunning views include groves of aspens, which turn must-see gold and yellow colors in the fall. Don't forget the camera—you won't be able to describe these sights with words.
4. Teton Crest Trail, Grand Teton National Park, Wyoming
During the 39 miles of this classic trek, you'll see most of Grand Teton National Park and some of the best fall colors in the country. Know before you go: Backcountry permits are required, and this route is best done from south to north with a car shuttle.
5. Blue Lake, Okanogan-Wenatchee National Forest, Washington
If you're looking for larches, and don't have time to camp out, look no further than this moderate, 4.4-mile-round-trip day hike. You'll find granite peaks, evergreens, meadows and—of course—the yellow-gold needles of the alpine larch.
6. Te Araroa, New Zealand
Do you have four months off? Looking for a thru-hike during our North American fall and winter? Head to New Zealand for 1,864 miles that are best trekked October through April. You'll see coastal beaches, high alpine ridges and jungle bush—and see far fewer people than you would on the Pacific Crest Trail or Appalachian Trail.