A thru-hiker packs an 18-liter REI Flash Pack for two weeks of adventure travel in Europe.
I smugly smiled, easily tossing my lighter-than-light 18-liter REI Flash Pack into the overhead compartment of my flight from Barcelona to Lisbon. There was none of the usual huffing and puffing, no last-minute hopes that my luggage would fit. And, if I really needed to, I knew I could shove it under the seat in front of me.
I had already eaten my way through London, explored museums in Paris and trekked the mountains outside of Barcelona. It was my jet-setting, adventure-travel trip to Europe for two weeks. I was hitting seven cities in four different countries, and I wanted to add a challenge: Could I pack my life into an 18-liter REI Flash Pack? The answer is yes, but I had to employ all of the knowledge I learned from my 2015 Pacific Crest Trail thru-hike.
Here's how you can join me in the I-packed-less-than-a-carry-on club. It definitely gives you cool points.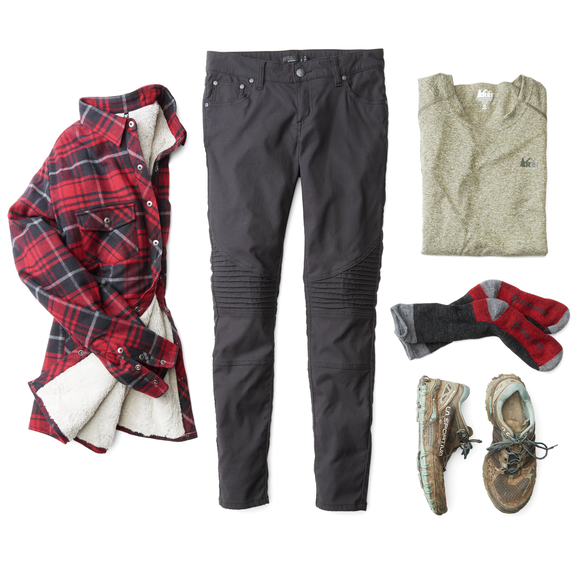 Hiking outfit: fleece-lined flannel, city-ready hiking pants, wicking tee, wool socks and trail runners.
Wear One, Wash One, Dry One
Instead of bringing everything you have, pack three pairs of socks, three pairs of underwear, three shirts and three bottoms. It's magical how many combinations you'll find with this limited number of items. Be sure to bring soap and paracord (for a DIY clothesline) so you can wash things along the way.
I broke my own rule for this trip: I packed two dresses, two T-shirts, two pairs of tights, one button down, one hiking pant, one flannel, one sweater, four pairs of underwear and four pairs of socks. It was more than enough.
Black Short-Sleeve T-Dress
Pick Your Palette
The key to mixing and matching is a similar color palette. As you're choosing your clothing, make sure it all will work together. My favorite? Mostly black will ensure you're always looking smart. My other favorite? Lots of bright patterns that clash perfectly together. For this trip, I went with blacks, grays and greens, plus a few pops of pink and red. On my thru-hike, I wore one hiking skirt and one shirt the whole time, so packing this many options felt luxurious.
Wear All Your Bulky Items
This is probably common sense, but wear your boots, coat and scarf on the plane. I was traveling  in Europe in January, and the weather was in the 30 to 70 degree temperature range. I wore my down jacket, leather boots, scarf, and fleece flannel or sweater on every flight. That way my bag only had to hold my smaller essentials. For a thru-hike, the opposite is true—you want to make sure every item but your smallest can fit inside your pack, especially as you're starting in the desert on the Pacific Crest Trail.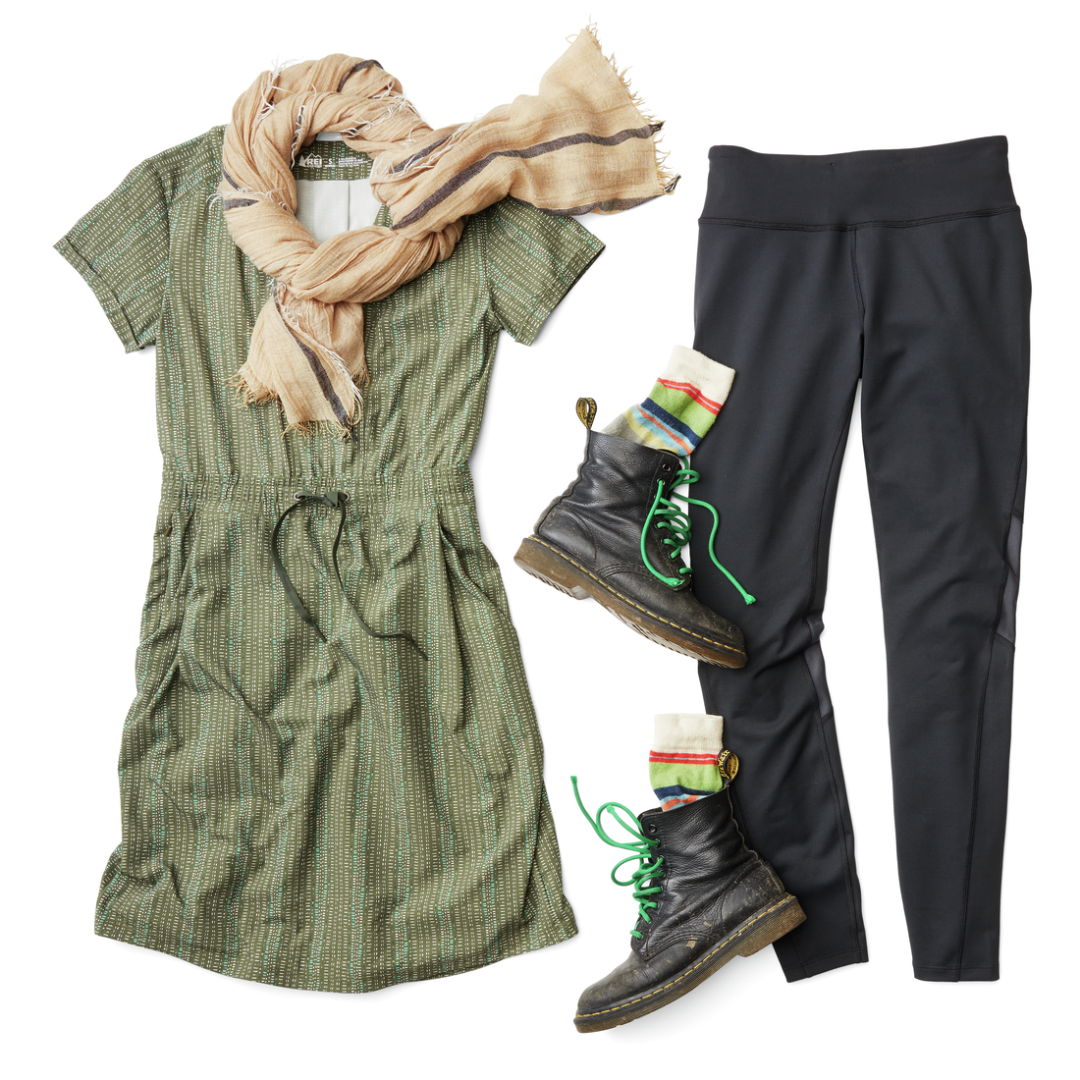 Dinner outfit: wicking, wrinkle-free dress, quick-dry tights, fun wool socks, neutral scarf and beat-up leather boots.
You Can Always Buy It There
For the most part, wherever you go, you'll be able to buy what you need. Don't worry about having every essential with you. If you forget toothpaste, you can get it at your destination. Extra shirt? They have those too. If I remember my passport, phone and wallet, I feel pretty good about leaving for my flight.
Bring Fewer Shoes
Prioritize a few versatile, comfortable pairs of shoes over quantity. Two or three are plenty. On this trip, I brought leather boots (warm, waterproof, and comfortable enough to wear for hours of museum visits), trail runners (for my hikes) and flip-flops (I refuse to get toe fungus from hostel showers).
Rethink Your Toiletries
For six months of the Pacific Crest Trail, I brought face wipes, sunscreen, and a toothbrush and toothpaste. I survived, and it taught me there's no reason I need to tote around heavy toiletries while traveling. This trip I added some shampoo and moisturizer (in travel-sized containers), along with eyeliner and mascara.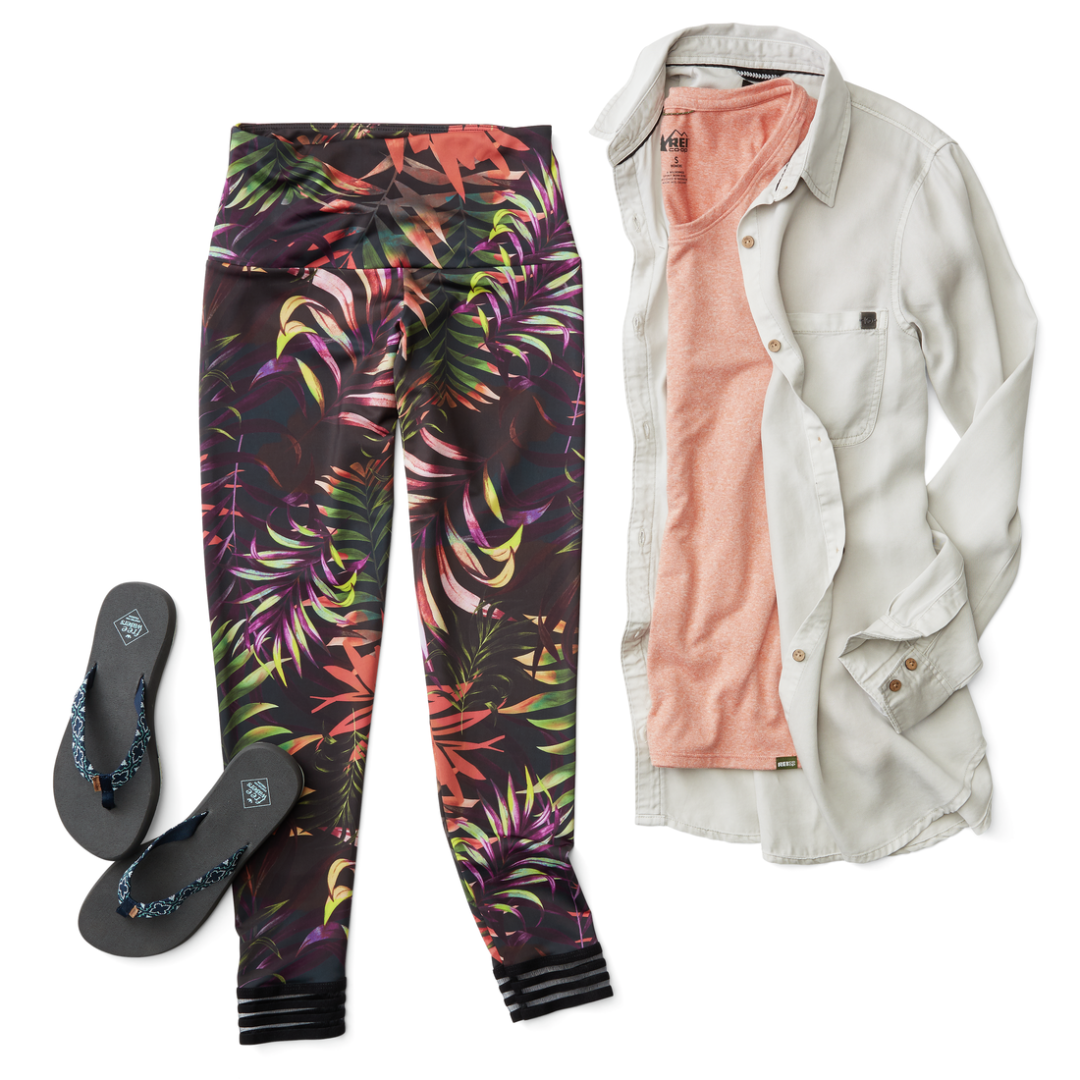 City strolls: yoga pants with a fun detail, wicking shirt, long button down, flip-flops.
Roll It, Don't Fold It
I'm a firm believer in the roll. It takes up less space, and is easier to see as you're packing and unpacking. If I had to do this trip again, I'd use packing cubes to keep my shirts and bottoms and random accessories all self-contained. Unfortunately, on this trip I spent a lot of time packing and unpacking my entire bag to get to that pair of pants I left somewhere near the bottom.
Always Pack These
No matter where I go, these travel essentials go with me:
Plastic bags

Plug extender with USB charge port

My splurge item? A camera on some paracord, which doubles as my clothesline.
Full disclosure: I had a fanny pack that always had my passport, wallet, phone, external battery, charger cords, headphones and earplugs in it. I also had a laptop in a laptop case, because I was working too. I'd recommend keeping the fanny pack and ditching the work.
What are your travel tips? Leave them in the comments below.