It's that time of year again, friends! The days are getting shorter and our sleeves are getting longer. As fall blends seamlessly into winter in the mountains, it's time to prepare your gear closet for whatever the elements might throw your way. And while you probably have the basics down from last year, it's time to focus on a new fabric: wool.
If you're anything like me, wool makes you think of the outdoor explorers of yesteryear. It's the material my Dad wore hiking in the Pacific Northwest in the '50s. Bulky socks, chunky sweaters. Just the thought makes me a little itchy. But merino wool is making a comeback as one of the most versatile and technical fabrics available for those who like to play outside, no matter the conditions. One brand in particular is at the helm of the resurgence: SmartWool. This past week, I put their layering system to the test to see if it could compete with my synthetic favorites.
Start with the Basics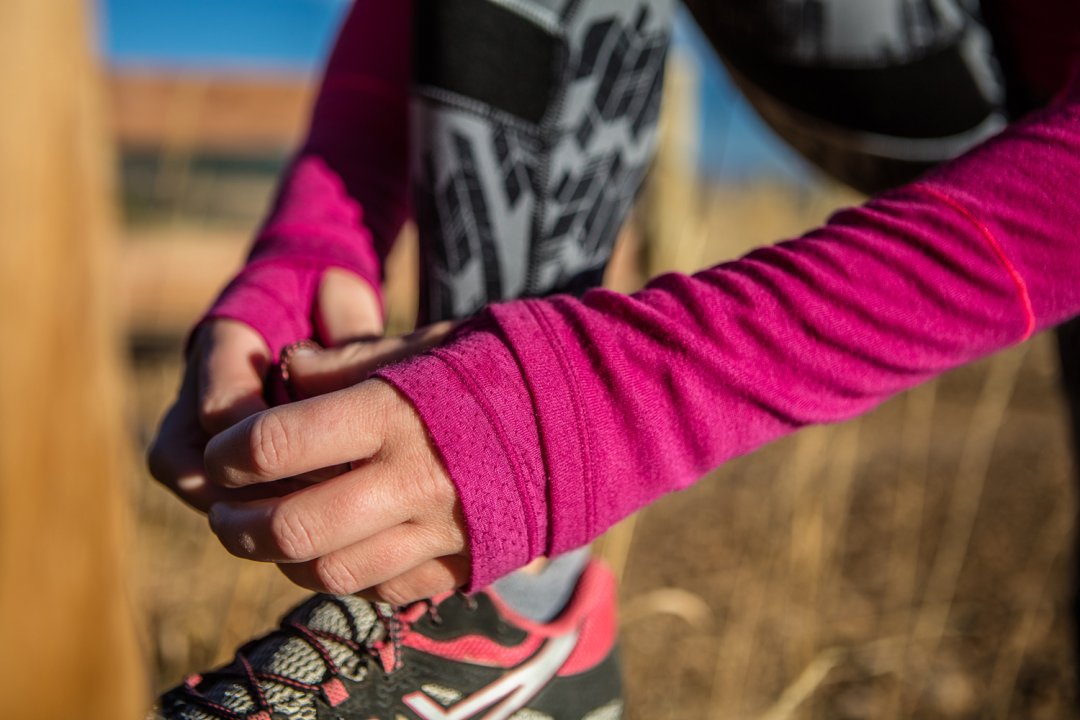 Photo by Bryan Rowe.
Whether your dream day outside consists of running through damp forests, scaling a new line in the desert, or mountain biking frosty trails, a solid base layer is crucial for regulating your core temperature. But why wool? It breathes. It wicks. And at the end of the day, it's antibacterial, so it doesn't stink. Synthetic fabrics (like the ones I've always worn) pale in comparison on all of these fronts. I put the SmartWool PhD Light Zip T top (also in men's)through its paces on three consecutive runs and it dried faster than any of my other tops, kept me surprisingly comfortable in 45 degrees, and it passed the sniff-test without being washed a single time. Best of all? It didn't itch.
Next Step, Outerwear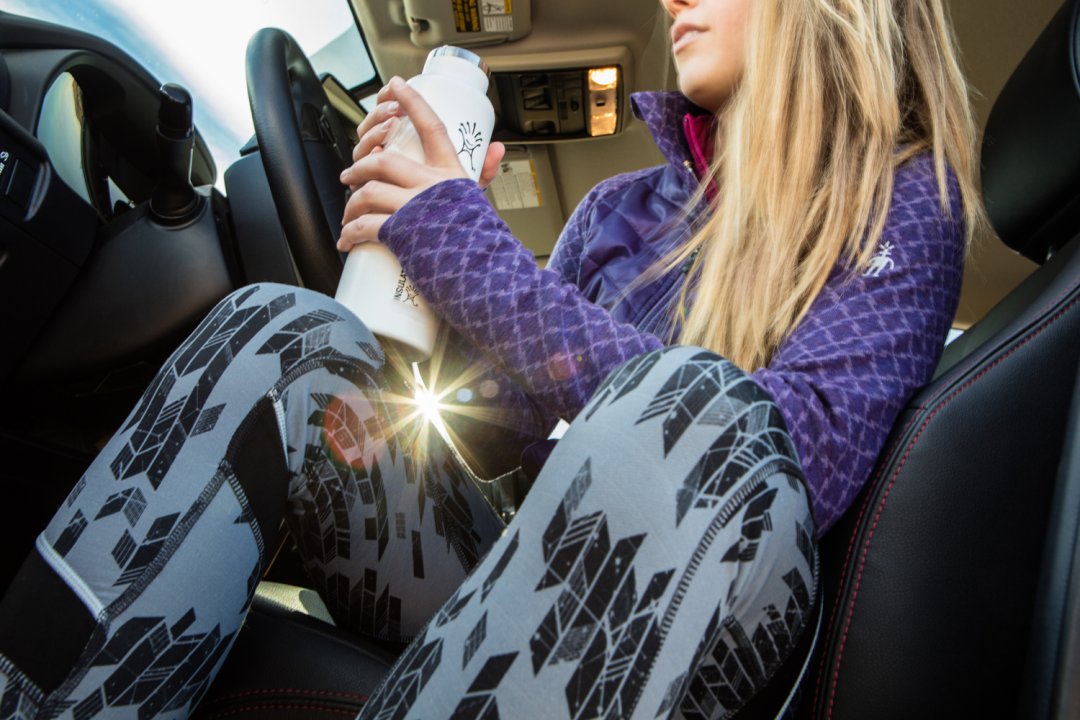 Photo by Bryan Rowe.
As the temperature drops and rain, sleet and snow loom on the wintry horizon, you'll want more than just a base layer. This is where the SmartWool system begins to shine. Their pieces are designed to work together without being bulky or slowing you down. Insulated items like the Double Propulsion 60 hooded vest (or the men's Corbet 120 vest) and the Propulsion 60 jacket (also available in men's) feature wind-resistant panels and a DWR finish, making them water resistant and ready for just about anything. I mainly donned these to wear at the office and at the trailhead, but can't wait to test them out on the cross-country track this winter where I think they'll really shine. For the gnarliest of days, finish off your top half with a breathable waterproof shell that will keep the elements at bay.
Don't Forget Your Bottoms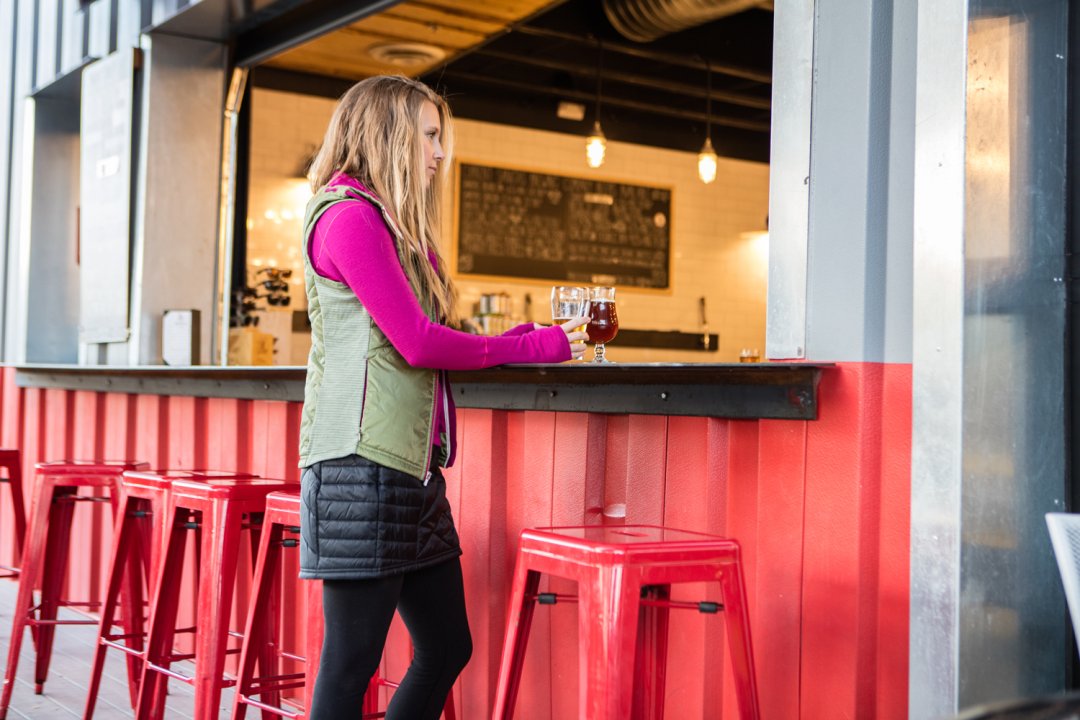 Photo by Bryan Rowe.
When it comes to early mornings and windy days, you need more than a pair of synthetic leggings to keep your lower half warm. The problem is, there aren't very many flattering options (ski pants don't count). SmartWool created a solution—the PhD Wind tights (also in men's) with nylon panels. Merino wool wraps the front and back while the added nylon shields your quads and knees from the elements. The tights come in without the panels as well for those who just want a no-stink option for yoga classes or more temperate days. For anyone looking for an added layer of warmth, the Corbet 120 skirt containing 120g of SmartLoft (wool and polyester) insulation zips on easily over your base layer. Après run, anyone?
There's no denying that SmartWool is setting a new industry standard for performance with their merino wool. As for my preconceptions about it being an antiquated material, I think my Dad had it right. As I continue to use SmartWool's layering system with its thoughtful details and techy perks, these PhD pieces might just become the first thing I reach for before heading out this winter.