Bike preferences are like fingerprints. Between suspension, wheel dimensions and frame size alone, there are more than a few mutations. That's why we have master bike techs in every REI store, geared and ready to help you select the perfect rig for you.
To help you zero in on your setup, we went straight to those bike nerds and asked them for their recommendations. They've picked these six full-suspension and hardtail mountain bikes for newer riders and those who are looking for a next-level machine.
Best All-Around Mountain Bike
Wheel size: 29 in.
Frame material: Aluminum
Suspension: Full (140mm/front; 130mm/rear)
Drivetrain: SRAM NX Eagle; 11-50; 12-speed
Price: $3,250
Like a lot of premium brands, Cannondale has come by its cachet fairly. The brand is known for tuning its frames, both carbon and aluminum, to be stiff in areas where you need efficient power transfer and compliant in other areas to aid handling. The aluminum-frame Habit 4, which has the same geometry as the carbon versions, is one such example. "Cannondale got the geometry just right," says Jonathan "Beans" Rubell, a master tech in our Greenwood Village, Colorado, REI Co-op store. "It's not too slack, so it can climb competently, but it's just slack enough that you can handle the high-speed stuff." In other words: This a bike you can truly ride all day long.
And the Habit 4 doesn't skimp on goodies. Whether this is your first full-suspension ride or you're looking to upgrade, you'll enjoy more premier (read: fun) features like a dropper seatpost, tubeless-ready tires and a Fox suspension in the front and rear. Rubell says the 140mm fork "has saved me on more than one occasion. You're not likely to leave any of the travel unused, but it's also not so squishy that you want to throw the bike off a cliff." (Not recommended for any bike, by the way.)
What sets this bike apart from other full-suspension machines is Cannondale's proportional response technology, which Rubell describes as "one of those bike techie terms that actually works." Most brands determine rear suspension placement based on a medium-size frame, but the Habit 4's varies proportionally for each size. That means bigger riders are far less likely too over-bob, and smaller riders won't feel like the suspension is too stiff. Buy here.
Best All-Around Mountain Bike for Smaller Riders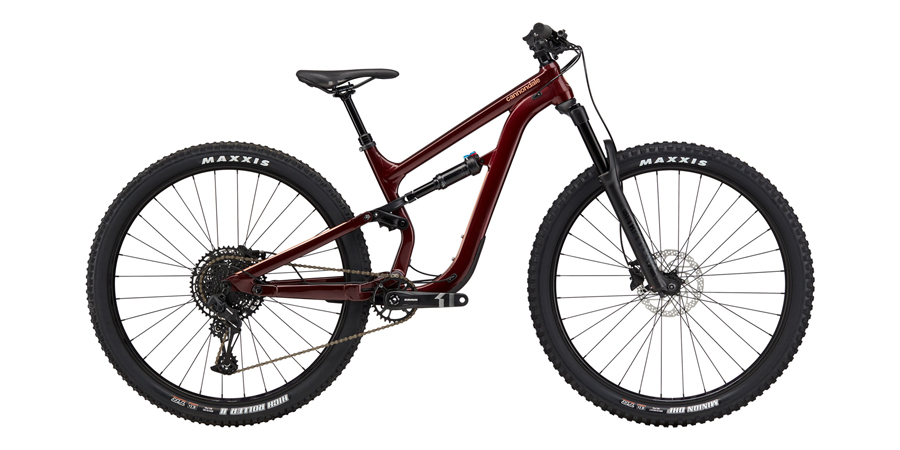 Wheel size: 29 in. (S, M), 27.5 in. (XS)
Frame material: Aluminum
Suspension: Full (140mm/front; 130mm/rear)
Drivetrain: SRAM SX Eagle; 11-50; 12-speed
Price: $2,700
Although the spec is not identical to the unisex Habit 4, it's fair to say that this bike is every bit as capable. (One could even argue that having 140mm of front fork travel in this smaller size run makes the Habit AL 2 suited to slightly gnarlier terrain.) Beyond the suspension, the Habit 2 also offers the same drool-worthy feature set as its bigger cousin: a dropper seatpost, tubeless-ready tires and Fox suspension in the rear (it has RockShox in the front). In line with Cannondale's philosophy of tailoring design to individual bike sizes, the Habit AL 2 is less a women-specific bike than a smaller rider-specific bike.
Cannondale's proportional response technology, where the rear suspension in each frame size is placed at the center of gravity for the intended size of its rider, is still central to the story. But with the Habit 2, wheel size also changes: The small- and medium-size frames have 29-inch tires, while the extra-small-size frame gets 27.5-inch tires. As one REI bike tech jokingly cautioned: "Putting a too-small rider on a bike with 29-inch wheels can make them feel like they're trying to drive a semi-truck on a slalom course." In the Habit 2, Cannondale has instead created a very stable—and nimble—trail bike in each and every frame size. Buy here.
Best Mountain Bike for More Technical Trails
Wheel size: 27.5 in.
Frame material: Aluminum
Suspension: Full (150mm/front; 130mm/rear)
Drivetrain: Shimano SLX; 10-51; 12-speed
Price: $3,199
The snappiest bike in this bunch, the Salsa Rustler SLX owes its agility to 27.5-inch wheels and a short stem that you'll appreciate any time you're negotiating tight trees or boulders. A quick-adjust feature also adds a half-degree of slackness to the head tube for times when you want a slightly more stable geometry. You can engage the Flip Chip with a hex key on your multitool; flipping it also adjusts the bottom bracket down 4mm for a lower center of gravity. Reversing the Flip Chip does the opposite, giving you more agility and more pedal clearance.
"Highly capable wherever I go," says our content producer Dustin Kingman, who has been with the co-op for more than 20 years and mountain biking for longer. Kingman specifically lauded Salsa's split-pivot suspension, a type of linkage that separates the acceleration forces and braking forces in the chassis. That allowed Salsa to tune the bike independently for pedaling, braking and shock absorption, so none steal power from the other for a smoother, more predictable ride. "It makes it easy to carry speed," Kingman says. And when it comes time to control all that speed, the Shimano four-piston hydraulic disc brakes are up to the task.
The Rustler SLX also means business up front, where its RockShox 35 Gold RL suspension fork offers 150mm of travel—more than any other bike in this group. This is a ride that can handle big hits, too. Buy here.
Best Value Full-Suspension Mountain Bike
Wheel size: 29 in.
Frame material: Aluminum
Suspension: Full (130mm/front; 130mm/rear)
Drivetrain: SRAM SX Eagle; 11-50; 12-speed
Price: $1,999.95
Getting this much spec in a quality full-suspension trail bike for a tick under $2,000 isn't easy to pull off, but GHOST has done the trick. In addition to ample front and rear suspension—enough for you to test your mettle on plungier pitches—the SLAMR 2.9 has a dropper seatpost and hydraulic disc brakes, along with a par-for-the-course 1x12 drivetrain and 50-tooth rear cog to help you grind back up to the top again. This is a bike that can manage any trail well.
Sean O'Connor, a bike tech in our REI Co-op store in Ann Arbor, Michigan, is a big fan of GHOST's four-bar platform in the rear suspension, which has allowed designers to better perfect the bike's shock rate. "It has enough give to ensure the tire stays in contact with the dirt, rather than popping up with each little bump, so you maintain continuous traction and control," he says. That allows for more natural pedaling if you prefer to stay seated on climbs, though the suspension does stiffen up slightly if you get up out of the saddle (so it shouldn't oversquish on descents).
For the money, the SLAMR 2.9 is simply one of the best values at REI. As one customer reviewer wrote of the bike's 2019 predecessor: "This MTB is very versatile, would hang with the trail rigs that cost a few grand more." Buy here.
Best Hardtail Mountain Bike
Wheel size: 27.5+ in.
Frame material: Aluminum
Suspension: Front only (M, L, XL: 140mm; XS, S: 120mm)
Drivetrain: SRAM NX Eagle; 11-50; 12-speed
Price: $1,799
One might argue that throwing a hardtail into a roundup of full-suspension mountain bikes is like comparing apples and oranges. But we say it's more like comparing Honeycrisps and SweeTangos. A full-suspension bike is certainly better suited for bigger drops and bumpier trails, but there's a price to pay for such complexity. And a hardtail certainly wastes less pedaling energy on the way up.
If you're just starting out (or looking for a faster rig), take a flyer on a hardtail like the Co-op Cycles DRT 2.2, which bike tech Sean O'Connor calls "the best you can do on serious terrain short of going full-suspension." One big reason he likes the DRT 2.2 is its plus-size tires (2.8 inches wide) that provide extra stickiness and cush to offset some of the, well, hardness of a hardtail. And when you do hit a drop, the 140mm of fork travel (in the larger frame sizes) can help you stick the landing. The bike's geometry, a bit longer than a typical hardtail, also helps inspire confidence along the trail.
O'Connor praises touches like a dropper seatpost, tubeless-ready tires and premium componentry that are a cut above other hardtails in this price range. "It even has a spare derailleur hanger," O'Connor says. That might seem like an insignificant feature, but it's not. "People break those all the time on any bike—and replacements can take weeks to get, especially for a newer bike model. That's a design team that pays attention to the details." Buy here.
Best Value Hardtail Mountain Bike
Wheel size: 29 in.
Frame material: Aluminum
Suspension: Front only (120mm)
Drivetrain: SRAM SX Eagle; 11-50; 12-speed
Price: $1,249
Enjoy the lowest price in this roundup and a more beginner-friendly design without sacrificing the fun stuff with the Salsa Rangefinder SX Eagle 29. This hardtail is more slack than others at REI, including the Co-op Cycles DRT 2.2, which helps provide a bit more control and stability on the trail. Still, the Rangefinder SX Eagle 29 comes with an impressive array of components at the price: a dropper seatpost, hydraulic brakes, internal cable routing and a quality SRAM drivetrain.
The Rangefinder is an efficient climber, with a standard 1x12 drivetrain and 50-tooth rear cog, plus a relatively steep seat tube angle. This positions the rider ideally to really power the pedals and claw up slanty sections. Bonus: A lockout feature on the front fork provides extra rigidity for even more climbing efficiency. When it comes time to descend, the 120mm of travel in the front fork is suitable for most trails, but there's a rebound adjustment if you want to fine-tune it.
This iteration of the Rangefinder includes big 29-inch wheels and 2.6-inch-wide tires, but it will accept 27.5-plus-inch wheels if you prefer a nimbler ride. Buy here.
Buying Advice
Figuring out the best mountain bike for you starts with where you plan to ride. After that, get in touch with your inner gear nerd by delving into componentry, specs and features. Lastly, figure out the right frame size.
Bike Category
The ever-evolving world of bike categories can seem daunting, but it's worth the time to familiarize yourself with it before you select your ride. Within the category of mountain bikes, there are three primary types.
Trail bikes (every bike in this article) are best for, you guessed it, trails. They're designed for navigating rocks, roots, climbs, drops and everything that's fun about mountain biking. Cross-country bikes, on the other hand, are designed for mellower terrain (think: gravel roads), and more ups and downs. They're descended from a type of racing and tend to appeal to competitors and more skilled riders, as well as recreational riders who like to spin the pedals on dirt roads with undulating elevation profiles. Finally, all-mountain bikes are a special breed of mountain bike designed for massive elevation drops (like if you ride at a ski resort in summer).
Features
Remember that whole thing about bike preferences being like fingerprints? The more you ride, the more you'll learn about yourself and your tastes. Before you get there, however, you can make an educated guess about what sort of suspension and wheel size are best for you.
In general, full-suspension mountain bikes offer better performance on more rugged trails. They're also more expensive. Hardtail mountain bikes, which have a suspension on the front only, cost less. That suspension on the front can provide enough shock absorption and comfort for less rough trails. Plus, having no suspension in the rear means you won't lose pedaling power on climbs. Other suspension details matter, too, so take a peek at our article on suspension basics to learn more.
As for wheels, these days you typically have two choices: 27.5 inches or 29 inches. Smaller, 27.5-inch wheels are better at accelerating and maneuvering, while 29-inch wheels roll over obstacles easier and have better traction. Because frame geometry and wheel size are related, this decision also has implications in the bike size you choose. Learn more about wheel size here.
Frame Size
Getting the right fit starts with getting the right frame size. At its simplest, that requires checking the particular bike's sizing chart and choosing the cell that matches your height. It might also mean, though, that you need to determine your "standover" height (pant inseam length is a close approximation), and then pick a bike size that works with that geometry spec. Read Mountain Bike Fitting Basics to learn more.
Learn More: How To Choose a Mountain Bike
Methodology
REI's bike techs have a lot of opinions when it comes to pairing riders and rides, so we polled them: What are the best mountain bikes at REI? We asked them for their favorite full-suspensions and hardtails, as well as value picks and bikes for newer riders. The rigs on this list are their favorites for most folks.
Article by Ken Knapp. Ken Knapp has been an REI Co-op writer for a quarter-century and a member longer than that. He's a father of daughters (thriving) and monitor of marmots (threatened). Ken is a big fan of sustainability and sharing the ball.