There's no one-size-fits-all approach to hiking attire. All sorts of variables can change your hiking apparel needs: temperature, terrain, distance and duration of the hike, for example. But finding the right clothing and footwear for your hike can mean the difference between a comfortable and enjoyable hike, or an altogether miserable one.
Luckily, with countless collective miles of trails behind us, the experts at REI Co-op can help you learn what to wear on your hike, with tips about layering, fabrics, a variety of trail conditions to consider and more. Review these hiking attire tips before setting out, so you can focus on what really matters: having a great time in the great outdoors.
This article will cover:
What to Wear Hiking
Can't wait to hit the trails? Here's a checklist of the most basic hiking attire requirements to get you out there, stat:

What Not to Wear Hiking
Although there's no official dress code out on the trail, there are a few items you'd do best to avoid if you want to maximize personal comfort:
Cotton, including denim: Cotton—and denim, which is made of cotton fibers—absorbs moisture, so it can keep you feeling sweaty in hot temps and chill you if things turn cold and wet. Whenever possible, look to other natural or synthetic fibers with moisture-wicking properties. That said, cotton may work just fine for you on shorter hikes and in optimal weather conditions.

Clothes you love too much to ruin or get dirty: Dirt and sweat can be par for the course while hiking trails, so if there's an article of clothing you'd prefer not to get dirty or wet, it's best to leave it at home.

Improper footwear: The shoes you choose for a hike might be the most consequential decision you'll make for both comfort and protection, so choose sturdy, well-fitting shoes or hiking sandals that can handle the job. You'll want to avoid taking brand-new shoes out on longer hikes; it's best to break them in slowly on shorter trails to avoid the possibility of sore feet and blisters.

Jewelry: Consider your jewelry before wearing it out on the trail. Looser pieces like necklaces and bracelets can be dangerous if they get snagged or snarled in branches, and rings or earrings can be lost, instantly turning hiking happiness into heartbreak. Generally, when hiking, we advise leaving anything precious or irreplaceable at home.

Packs that are too heavy or don't fit: No hiker wants to be weighed down with an overloaded or ill-fitting daypack or backpack. Too much weight can make the trek a slog, and a pack that's poorly fit can cause chafing and soreness. Read more at How to Choose Daypacks and How to Choose a Backpack.
Keep these strategies in mind when you're putting together the ideal hiking outfit:
Embrace layering: In this tried-and-true strategy, each clothing layer has a unique function, and you add or subtract those layers to adapt to changing weather conditions. Start with a moisture-wicking base layer that goes against your skin and, as needed, add an insulating mid layer and a waterproof outer shell, like a rain jacket, to be prepared for any hike. Read Layering Basics to learn more.
Choose polyester, nylon or merino wool base layers: Unlike cotton, these moisture-wicking materials move sweat off the skin and dry fast, so they're ideal for base layers such as underwear, sports bras, short- and long-sleeve tees and socks. That moisture management ability means those materials work well for all the rest of your clothing too.
Focus on function first (and fashion second): No one looks good when they feel miserable. Thankfully, brands these days are prioritizing comfort and technical performance in addition to looks: Just be sure you choose pieces that are up to the job.
Anticipate weather conditions: ressing properly for the elements can directly impact your comfort and safety. Weather forecasts can be off or evolve, and elevation shifts can change the weather, so be prepared in case conditions turn cooler, wetter, snowier or hotter than predicted. Wear or pack layers accordingly. Similarly, you'll need differing gear for changing seasons: Think a warm wool hat and gloves for a winter hike, or a sun hat with a brim for a summer hike.
Know your trail conditions: If you'll be hiking through brushy woodlands, tall grasses or forested areas, consider long sleeves, pants, clothes with built-in insect repellent or bug-net clothing to help keep ticks, mosquitoes and other pests at bay. In the desert, taller hiking boots can offer added protection. Urban hikes, meanwhile, might call for more versality and style so you can go from town to trail in a flash.
Key Fabric Properties
As you build the layers of your hiking clothes, consider these fabric properties:
Wicking: Important in a base layer, or any apparel that touches skin, this is a fabric's ability to pull moisture (sweat) away from you and move it to the outer surface of the fabric, where it can dry quickly. That lets you break a sweat without feeling clammy or chilled. Options include merino wool or synthetic fibers like polyester or nylon.
Insulating: Clothing doesn't actually generate heat. Still, if it's efficient at insulating, then it's good at holding in the heat that your body produces, which in turn helps you stay warm. This is a key attribute for your mid layer.
Waterproof and windproof: For an outer layer or shell, these properties help keep the elements from saturating your clothes with rain or chilling you when wind whisks away the heat your body produces. Note that jackets that are water- and wind-resistant do not totally block rain and wind, so they offer only moderate weather protection. And product descriptions for jackets that are waterproof may not also state they're windproof, though they often are.
Breathable: An important quality for all your layers, this helps your wicking layer to dry out more quickly. When your layers don't collectively breathe, not only are you more prone to sweating, but the perspiration that's then wicked off your skin dries inefficiently, leaving you soaked.
Waterproof/breathable: Advanced shells offer this coverage combo, though even the most sophisticated technologies prioritize blocking wind and rain. As a result, these shells may struggle with breathability when humidity and exertion levels are high. Coated nonbreathable shells are a fraction of the price, but can feel like you're wearing a trash bag in a sauna.
Sun protection: Clothing that has an ultraviolet protection factor (UPF) rating can help protect skin against the sun's damaging UV rays. Read Sun Protection (UPF) Clothing: How to Choose to learn why this is important for any hiker and any environment.
Basic Fabric Choices
Here's a primer on some popular fabric options for outdoor apparel:
Wool: Old-school woollies might have been itchy, but today's wool outdoor clothing is not. Merino wool, in particular, has fine fibers that make it soft, breathable, moisture-wicking, reasonably quick to dry and not prone to retaining odors.
Polyester/nylon clothing: Typically less expensive than merino wool, these synthetics excel at wicking sweat and drying fast, and many clothing choices incorporate recycled materials. One downside of synthetics is a tendency to smell funky, which is why some garments have an antimicrobial treatment to neutralize odor-causing bacteria. Most brands' trademarked, proprietary fabrics are some form of polyester or nylon. In their hard shell form (think rain jacket or the outer layer of a puffy jacket), these synthetics, often in combination with special coatings or laminates, protect you from rain and wind.
Fleece: Fleece jackets, common as an insulating mid layer, are actually made from polyester, though their warmth is as much a function of their soft, thick fibers as it is the material's chemical properties.
Silk: Because of its modest wicking ability, silk isn't ideal for a strenuous hike. Treated silk performs better because it's been chemically modified to enhance wicking. Silk's soft, luxurious feel is nice, but it's not particularly rugged nor odor resistant.
Cotton: Notoriously inefficient at wicking and drying, cotton is known for soaking up sweat, staying wet and chilling you. In a sweltering heat, you could choose to wear it if you don't mind feeling clammy and sticky. But when conditions turn very cold, cotton next to your skin can be a recipe for hypothermia.
Base Layer
The base layer—ideally one with wicking ability—is an important consideration as your next-to-skin layer.
Underwear: Whether it's boxers, briefs, boy shorts, bikini briefs or something else, go with your personal preference on comfort. For longer hikes, you will want your underwear to have a supportive fit and be breathable and non-chafing, which is why seamless designs and moisture-wicking, non-cotton fabrics can be a better option.
Bra: Choose a sports bra that best suits your size, the intensity of your activity and the level of support you need. Read more: How to Choose a Sports Bra.
Long underwear: If it's cold enough, you'll want a pair of wicking long underwear to serve as your base bottom layer. Wear them under hiking pants, and perhaps rain pants, when conditions get stormy. Available in lightweight, midweight and heavyweight fabrics, make the selection based on anticipated temps and whether you run hot or cold. As for whether you should wear undies under long underwear, there's no right or wrong answer, so do whatever is most comfortable. Read more: How to Choose Base Layers.
Shirts: A wicking short-sleeve T-shirt is fine in warm weather, and a wicking long-sleeve top is fine for cool conditions. For a sun-drenched day, consider wearing a UPF-rated shirt (many have a flip-up collar or hood for additional protection). If you're carrying a pack, avoid wearing tank tops or sleeveless shirts, as the backpack straps can rub against the skin, causing chafing and discomfort.
Pants and bottoms: Moisture-wicking and flexible hiking pants or leggings are popular choices, though hikers also love convertible zip-off pants because they don't have to choose between pants and shorts. Quick-drying fabrics are the rule here and some hiking shorts with built-in liners can double as swimwear. Just note that exposed legs can lead to sunburn, cuts and scrapes, poison ivy or bug bites. Pockets are a big plus for easy-access places to stash things. Keep in mind that in colder temps, you'll want long underwear to stand in instead as your base layer. Read more: Hiking in Leggings and Yoga Pants.
Mid Layer: Fleece and Puffy Jackets
This layer provides your primary warmth. A standard recommendation is to bring two options, like a lightweight fleece top and a puffy jacket that compresses well to fit in your daypack. Adjust as needed based on your specific trek.
Fleece jacket: On colder days, you can wear it while hiking. On a cool day, wait until a rest break to slip it on. Fleece comes in lightweight, midweight and heavyweight options to tailor to temperatures and personal preferences.
Fleece pants: If severe cold is a possibility, fleece pants are a nice mid-layer addition. On most hikes, though, long underwear bottoms offer all the added leg warmth you might need.
Puffy insulated jacket or vest: If conditions will be mild, a fleece jacket is sufficient. If things could get cold, then also pack a puffy. Standard down, the insulation inside many puffy jackets, loses much of its warmth-retaining ability if you get it wet, so synthetic insulations may be a better bet depending on conditions. You can also bring a jacket filled with water-resistant down or a hybrid that combines a synthetic fill with water-resistant down. Read more: How to Choose Insulated Outerwear.
Outer Layer
Even a cloudless blue sky in the morning can suddenly give way to a fast-moving rain squall. Keeping dry is key to staying comfortable and safe, so pack rainwear that offer waterproof and breathable protection. For a deep dive on the subject, read Rainwear: How to Choose. Note, too, that on dry, blustery days you can also wear hard-shell outerwear as protection from windchill.
Shell/Rain Jacket: Choose between soft-shell, hard-shell, and hybrid-shell waterproof and windbreaker jackets, which offer varying degrees of insulation and breathability. If you're on a budget or packing ultralight, a poncho may do in a pinch, but it won't offer much protection if you're caught in sustained rain.
Rain Pants: If the weather calls for heavy rainfall, rain pants can save you from getting soaked on your outing. Look for features like breathability and flexibility for maximum comfort.
Footwear
Shoes are one of the most important decisions regarding what to wear on the trail, as almost nothing can ruin a hike quicker than blisters or sore feet. Get more in-depth advice on shopping for them in How to Choose Hiking Boots, but here are some tips to start:
Hiking boots or trail-running shoes: Sturdy and comfortable shoes are an absolute must on the trail for foot support and protection, as well as for traction on challenging surfaces. Consider shoes with waterproof or water-resistant features if you'll be hiking in rainy, muddy or dewy conditions, but remember you'll sacrifice some breathability. Generally, hiking boots, with their added ankle support, are recommended for longer or multiday hiking trips, while low-top hiking shoes or lighter trail runners can be suitable for shorter hikes on groomed or paved trails. Read more: Check out Hiking Boots vs. Trail Runners: The Great Debate for pointers on the best fit for you.
Hiking sandals: Gone are the days of flimsy flip-flops on the trail. Hiking sandals can be a lightweight, breathable option for water crossings or hot days on flat terrain. Look for sandals that offer support, have grippy traction and have a snug strap system to hold the shoes securely to your feet. Read our Gear Guide on our favorite hiking sandals available at REI.
Socks: Choose thicker or thinner socks based on the weather, and keep in mind that socks need to be taller than your hiking footwear to avoid blisters. Like most base layers, moisture-wicking wool socks are preferable to cotton socks, which can get wet and cause blisters.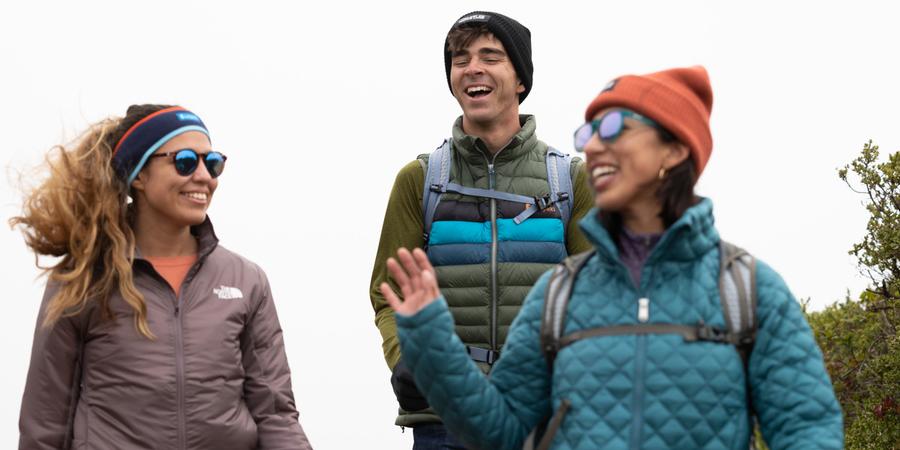 Now that you're dressed, consider these hiking accessories that are designed to protect you from the elements:
Hats: Hats are a good idea in any season. If you're hiking under strong sun, wear a wide-brimmed hat or a billed cap; in really sunbaked conditions, like the desert, you might attach a sun cape for added neck protection. A wide brim can also be a plus to keep rain out of your eyes if a soggy forecast suggests bringing a waterproof hat. A baseball cap may also do the trick but won't offer coverage of your ears and neck. For cool conditions, pack a wool or synthetic cap to insulate your head.
Sunglasses: A good pair of shades can shield your eyes from harmful UV rays and offer protection on windy days. Polarized lenses reduce glare but can cause blind spots. Photochromic lenses transition from darker to lighter based on the intensity of the environmental light. Read more: How to Choose Sunglasses.
Gloves: Choose the weight of your gloves based on the weather. Insulated and waterproof gloves are best for wintry conditions, and mittens are warmer than gloves even when made from the same material.
Leg gaiters: Gaiters fit over your hiking boots and pants to help trail debris, rain and even pests like ticks from invading your boot tops. There are also waterproof gaiters for snowy or wet conditions. Read more: How to Choose and Use Gaiters.
Neck gaiters: Fleece or wool neck gaiters can help keep you warmer in cold temperatures, while lightweight, breathable versions can help absorb sweat and offer UV protection in warmer weather.
Daypack: Not apparel per se, but you may want to carry a lightweight, well-fit daypack to stash away your water, snacks, phone, keys, extra layers and other hiking must-haves. A basic bookbag may be sufficient for short or urban hikes, but for longer and more technical hikes, you might consider upgrading to a pack with features like water resistance and extra back support, including a hip belt. Read up on how to choose daypacks, and note if you graduate to overnight hiking adventures, a bigger backpack may be in order.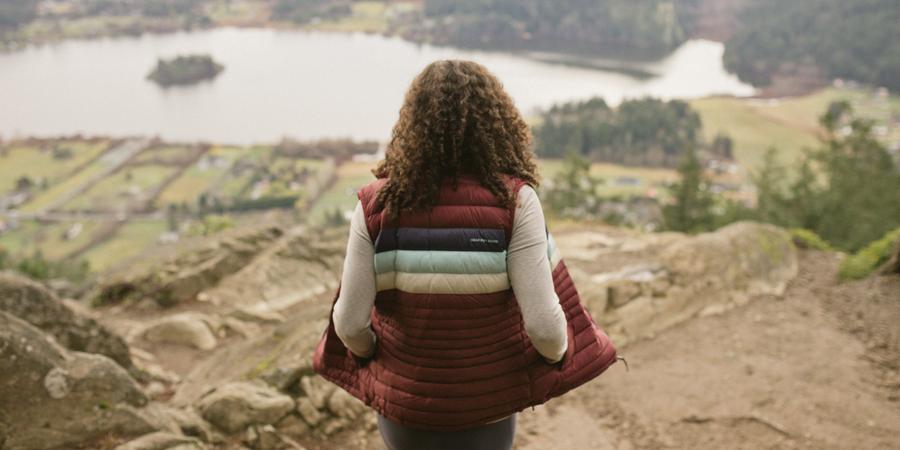 From your base layer to your leg gaiters, every product has an environmental, social and/or animal-welfare footprint. By considering the following choices, you may be able to minimize that impact. For more in-depth consideration on sustainable hiking apparel, see How to Understand Clothing and Gear Sustainability Features.

Use what you already have: Especially when you're just starting out, taking shorter hikes or staying on close-to-home trails, you may be able to make do with what's already in your wardrobe. Pick through your favorite gym clothes and most comfortable apparel to see what trail-ready items you already have.
Buy secondhand: These days, you can buy high-quality outdoor hiking clothes and gear secondhand at consignment shops or online retailers. REI Co-op Members can shop for and trade in used clothing and apparel through the co-op's Re/Supply program.

Invest in quality: If you do invest in new (or new-to-you) clothing items, consider buying durable, well-made pieces that are meant to last, and learn how to care for and store them to lengthen their lives. See our Care and Repair article library for tips and tricks.

Repair your apparel: Curb consumer demand for new stuff by choosing to extend the life of your hiking footwear, gear and apparel via repairs. See our Care and Repair article library for specific gear and clothing repair guides.

Look for bluesign®-certified apparel: The bluesign® certification recognizes companies that have made significant efforts to prevent harmful substances from entering the production process. It follows a robust auditing system that evaluates pollution, resource use, consumer safety and occupational health and safety. For more details, read What is bluesign®?

Purchase products made from recycled materials: Give pre-used materials a new lease on life by buying hiking clothes and gear that are made from recycled, remnant or repurposed materials. Recycled polyester, sourced from recycled plastic bottles, is a common material for shells and fleece jackets, for instance. Read more: Understanding Recycled Materials in Outdoor Clothing and Gear.