Packing for a bucket-list trip to Nepal or Peru or Thailand may seem daunting, because hey, it's not every day you head thousands of miles from home. How many socks? Should I bring the trekking poles? What goes in my carry-on? And how do I keep my passport safe?
We sat down with two experts at REI Adventures, our adventure travel arm that offers 150-plus active guided trips around the world, and one REI employee travel-guru to bring you top tips from their combined 50-plus years of travel experience.
1. Keep important documents safe. What you need with you at all times is your passport, driver's license and travel insurance—seriously, if you're going on an adventure travel trip, buy emergency medical and evacuation coverage. Keep these on your person at all times. It's also a good idea to scan these documents and save them to your phone and email them to yourself and your contacts at home. For the rest of your important documents—like reservations and itineraries—save them as photos you can access in your phone and create an email folder you can easily access from any location. "If you're traveling internationally, also have a physical copy of your passport and pack it separately so you can go to the closest embassy and show it to get help faster," says Belinda Gardner, REI Adventures program manager.
2. Lighter is better with adventure travel. If you're touring by bike or exploring multiple destinations, you "may be moving every night, so you don't want to have a ton of stuff. Keep your luggage light and small," says Janel Jensen, REI Adventures travel program manager. Don't know where to start? Ditch items that don't serve two purposes—for example, Belinda packs a poncho instead of a rain jacket and pack cover.
3. Be smart about your carry-on. Belinda always carries a warm layer, spare toiletry kit, medications, clean socks and underwear in a day pack. She wears her hiking boots and straps her cycling shoes and helmet to the outside of her carry-on (which doubles as a great conversation starter), so she's ready for day one of her adventure, even if the airline loses her luggage.
4. Go with quick-dry clothing. "You want clothes that you can hand-wash and dry overnight on a towel rack," says Janel. Synthetic pants and shirts not only pack small but wick sweat and dry lightning quick after washing. Be extra prepared by bringing detergent along too. We love the Sea To Summit Trek and Travel (liquid) and Pocket (mini-sheets) laundry wash—which are both TSA carry-on compliant.
5. Fewer clothes are better. Janel brings three pairs of clothes—a mix of trekking pants and shorts and long-sleeve and short-sleeve shirts, and usually one dress, too. "People get so worried about wearing the same clothes over and over again—but no one is paying attention," adds Belinda. Remember what you're there for, and think and pack like a backpacker.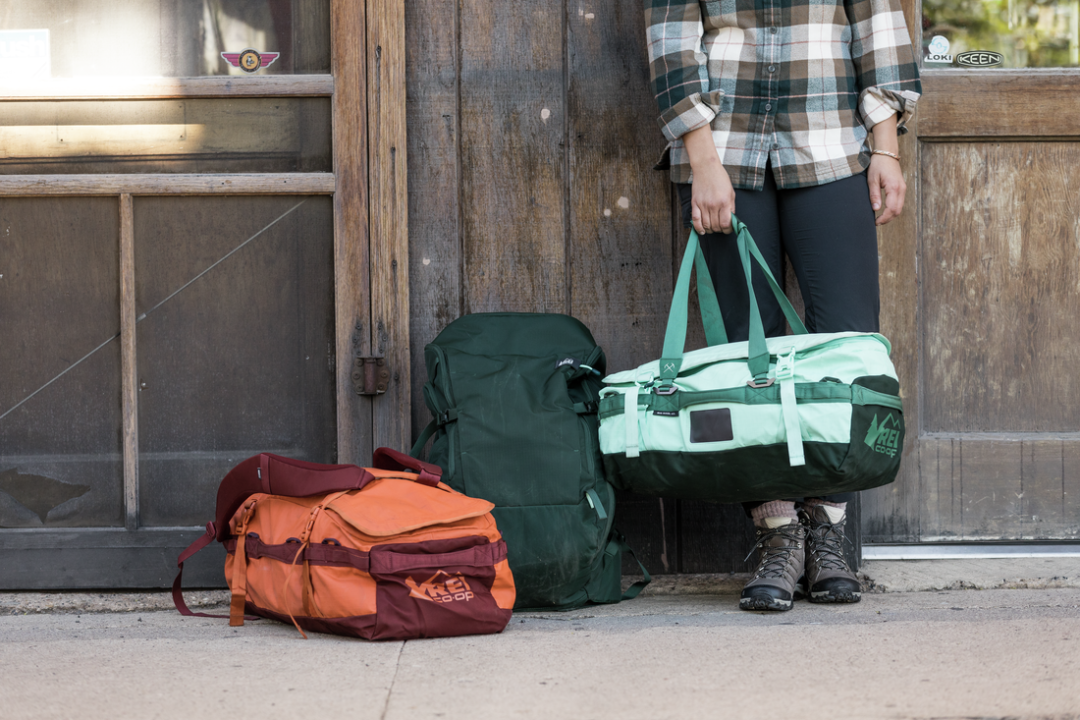 6. Pack small. The experts were split on the age-old debate on rolling clothes versus folding them. Proponents of rolling say they take up less space and you can see all of your stuff at a glance. Those who fold say the flatter clothes are more easily packed and that wrinkles are inevitable. Whether rolling or folding, all recommended Eagle Creek packing cubes. They separate underwear from toiletries to keep you organized on long excursions. Remember to fill every single inch of space in your luggage. "I always have a hat and it's upside down in the center of the bag with clothes stuffed inside. It seems to keep its form well that way," says Ashlee Langholz, program manager for content at REI, and avid adventure traveler.
7. Use a duffel. "Duffels are better than hard-case luggage because they are soft," says Janel. It's true: whether playing luggage tetris in the trunk of a taxi or on the backs of pack animals, duffels have a leg up on hard-sided bags. The REI Co-op Big Haul 60 Duffel, with its easy backpack conversion, is a super versatile option. Simply put, duffels with straps make rushing through the terminal or running for the bus that much easier, not to mention they're durable and smashable, necessary for adventure travel. Plus, "I feel like I'm training when I walk through airports," says Ashlee.
8. Double-up on socks. They're the one thing that barely takes up any room. "I don't skimp on socks. I don't mess around with them," says Janel. Don't forget stashing away your 'sacred socks.' That's the pair you only wear when literally everything else is soaking wet or ruined.
9. BYOWB (Bring Your Own Water Bottles). While you can't carry water in water bottles through TSA, you can fill up your bottles on the other side. It's one way to be more eco-friendly during your travels, even as your carbon footprint expands with each plane ride. We are all about the Katadyn BeFree Collapsible Water Filter Bottle because it collapses into next to nothing and filters water as you drink.
10. Be prepared for rain. In fact, be prepared for any weather. Think like a backpacker and bring a rain jacket—and depending on the climate, rain pants and a pack cover too. After all, "when you're on an adventure travel tip, you're going to hike regardless of the weather," Janel says.
"As long as you have your passport, clean underwear and a sense of adventure, you're good to go." –Belinda
11. Always have your Ten Essentials. "I have the REI Co-op Expandable Packing Cube that I keep my Ten Essentials in. It goes with me everywhere, and I often travel with it if I'll be doing anything active on the trip," says Ashlee. "And remember to take out your multi-tool if you're not checking the bag!"
12. Bring your own over-the-counter medications. If you're on a guided expedition, your guides will have plenty of group first-aid options. But even so, having your own tried-and-true blister kit, hydrocortisone, antibiotic ointment and allergy pills is important. Janel reminds us that it can be really hard to find what works for you when traveling abroad. Be sure to bring extra prescriptions meds in your carry-on, too. There's no way you're getting your hands on certain things in far-flung places. 
13. Take a bandana or Buff. Probably one of the most versatile items you can pack, use them for warmth, dust, sweat, runny noses, new hair styles or fashion statements. And if you're in the backcountry, pack two and you'll have a pee rag, too.
14. Don't forget your light source. Janel uses her phone's flashlight in dimly-lit shared spaces, so as not to bother her roommates. Places vary, she says, like "in Nepal where they regulate their light. Sometimes you're caught without electricity for hours on end, and you'll need a light source," or you'll be stuck in the dark. We recommend a small, rechargeable headlamp like the Black Diamond Iota.
15. Locks can be theft deterrent. But they're not theft proof. If you're going to put a lock on your duffel or luggage, get a TSA-compliant lock so airport staff can get into your checked luggage without destroying your zippers or bag. As always, don't pack anything valuable, keep it on your person instead.
16. Ask your airline for backpack protection. If you're only flying with your backpack, make sure to protect all the straps by cinching them tight and wrapping your hipbelt around the back of your pack, then packing the whole thing in a large plastic bag, which most airlines can provide or, in your own large duffel bag.
17. Check your trekking poles. It's an age-old question: carry-on or check? Although we've heard tales of carrying them on, most airlines require you to check them because they do have a pointed tip. "I love my Leki trekking poles that weigh nothing and fold up. Just be sure to make sure they fit in your suitcase," says Belinda. To protect your duffel, use the trekking poles' tip protectors, and to protect them from bending or breaking, pack them close to something substantial, like your day pack.
18. Keep your lesser-used items at the bottom of your duffel. Stack the bottom of your duffel with heavy items you aren't planning on accessing right away—think extra shoes, rain pants, crampons, daypack. And what are you using right away? Pack toiletries right on the top, so you're not digging through your pack if you get to your destination late at night.
19. Double-check TSA regulations before you pack. This is your full resource.
Allowed
Batteries (restrictions may apply)
Bicycle chains
Bicycle pumps
Camp stoves
Canoe/kayak paddles (checked)
CO2 cartridges (restrictions may apply)
Crampons (checked)
Helmets
Hiking/ski poles (checked)
Ice axe/picks (checked)
Life jacket
Lighter (one, carry-on)
Matches (one pack, carry-on)
Multi-tool without blades
Multi-tool with blades (checked)
Nail clippers
Safety pins
Sewing needles
Skis/snowboards/snowshoes
Tents (check with airline)
Tweezers
Prohibited
Bear spray
Camp fuel
Insecticides
Liquid bleach
Strike-anywhere matches
Torch lighters
20. What gear should you bring and what should you rent? Belinda has this down to a science. If she's spending a day or two doing a sport, she'll rent everything she needs when she gets to her destination. If she's there for a longer tour, she'll bring the most important gear she needs for each activity.
Cycling: Pack your helmet, shoes, gloves and saddle. Leave your bike at home—you can rent really nice bikes and try out a new brand in a different country. Plus, you'll save yourself the cost and hassle of taking your bike apart, flying it there and putting it back together.
Backpacking: Pack your boots, sleeping bag and backpack. You can rent pads, tents and trekking poles from most guiding companies.
Mountaineering: Pack your boots and harness. Your guide can provide the rest.
Water sports: Pack your favorite mask and snorkel—because if you're in Baja swimming with sea lion pups, you'll really want a good fit. Rent the wetsuit, paddles, PFDs and boats at your destination.
Yoga: Pack your mat and towel. It might take up some space in your bag, but being comfortable is worth it. Plus, if you're planning on enjoying your practice on the beach, a local park or even in your hotel room, it's much harder to rent a mat abroad.