Patagonia's new Micro Puff is available as an insulated jacket (women's and men's, $249) and insulated hoodie (women's and men's, $299). Our testers tried out the hoodie version.
Patagonia Micro Puff Insulated Hoodie, $299
Weight: 8.3 oz. (women's medium), 9 oz. (men's medium)
Sizes: women's XS-XL, men's S-XXL
On October and November hikes ranging from the high 30s with chilly wind in Idaho's Boise Mountains to a 14-degree morning at nearly 10,000 feet in Wyoming's Wind River Range, our testers pulled on Patagonia's new Micro Puff hoodie and instantly felt … heat. In truth, we really didn't expect that much warmth, given what a slender figure this packable, featherweight puffy cuts. The secret lies in a minimalist design that doesn't sacrifice critical performance details, and a new, highly compressible synthetic insulation that delivers down-like warmth for its weight.
10 years in development at Patagonia, the water-resistant PlumaFill synthetic insulation is deceptive because, while it doesn't loft quite like down feathers, it matches the superior compressibility and warmth-to-weight ratio of the highest-quality down (850- to 900-fill power). And it couples that with the properties of synthetic insulation: While down is famously useless when wet, PlumaFill, like other synthetic insulations, continues to trap heat even when soaked.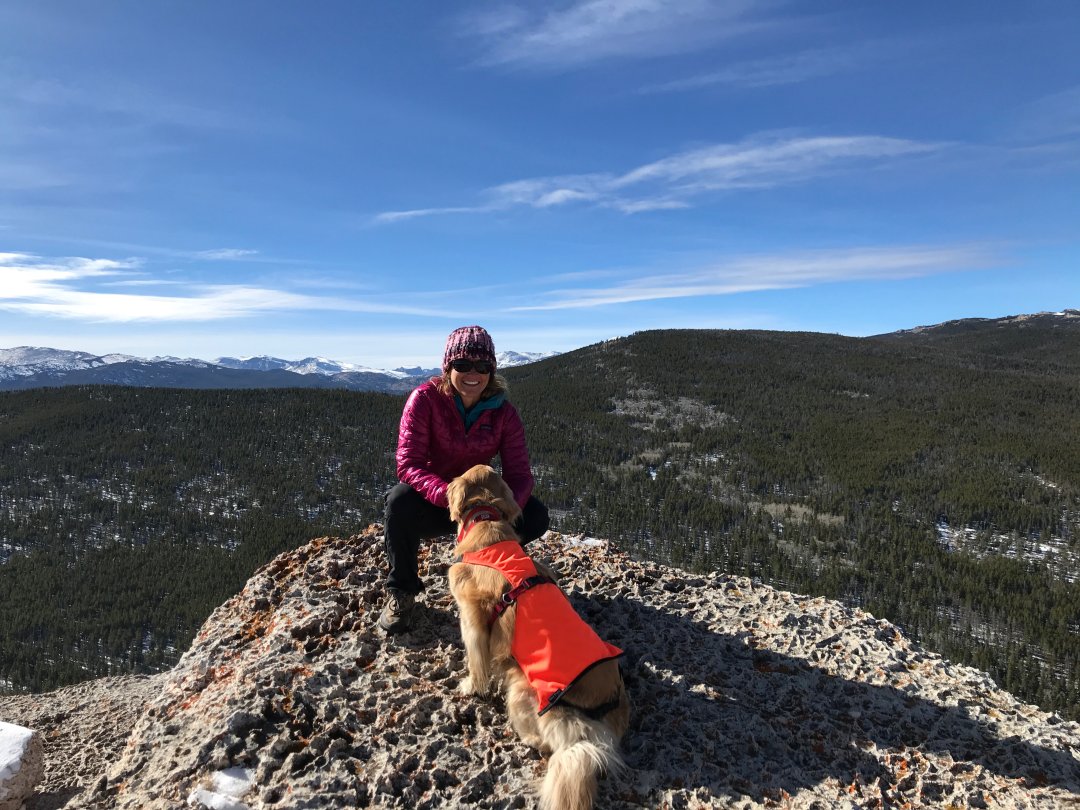 Shelli Johnson tests the Patagonia Micro Puff hoodie on hiking trails above Lander, Wyoming, in the foothills of the Wind River Range. (Photo Credit: Shelli Johnson/YourEpicLife.com)
The explanation behind the unusual confluence of performance aspects of down and synthetics lies in the insulation's unique properties. Whereas typical synthetic fibers are stacked in "sheets" of material, PlumaFill is constructed as a continuous strand; that and the offset, discontinuous quilting construction, which prevents the insulation from shifting around, allows Patagonia to place the insulation strategically to maximize warmth per ounce and prevent cold spots. The quilting pattern creates large spaces inside, mimicking how down traps heat to deliver high warmth for its weight. Those properties also help make the insulation more durable, according to Patagonia: While down can tend to clump and become less effective over time, PlumaFill, being a continuous strand, does not clump.
As for appearances, all of that technical alphabet soup means that the Micro Puff resembles down-jacket styling, minus the bubble-wrap look.
Flipping the hood up made our testers noticeably warmer. While it's not adjustable—minimizing features kept the jacket's weight down—the hood's elasticized, under-the-helmet design clings snugly around your face, moving with your head movements even with the front zipper partly open.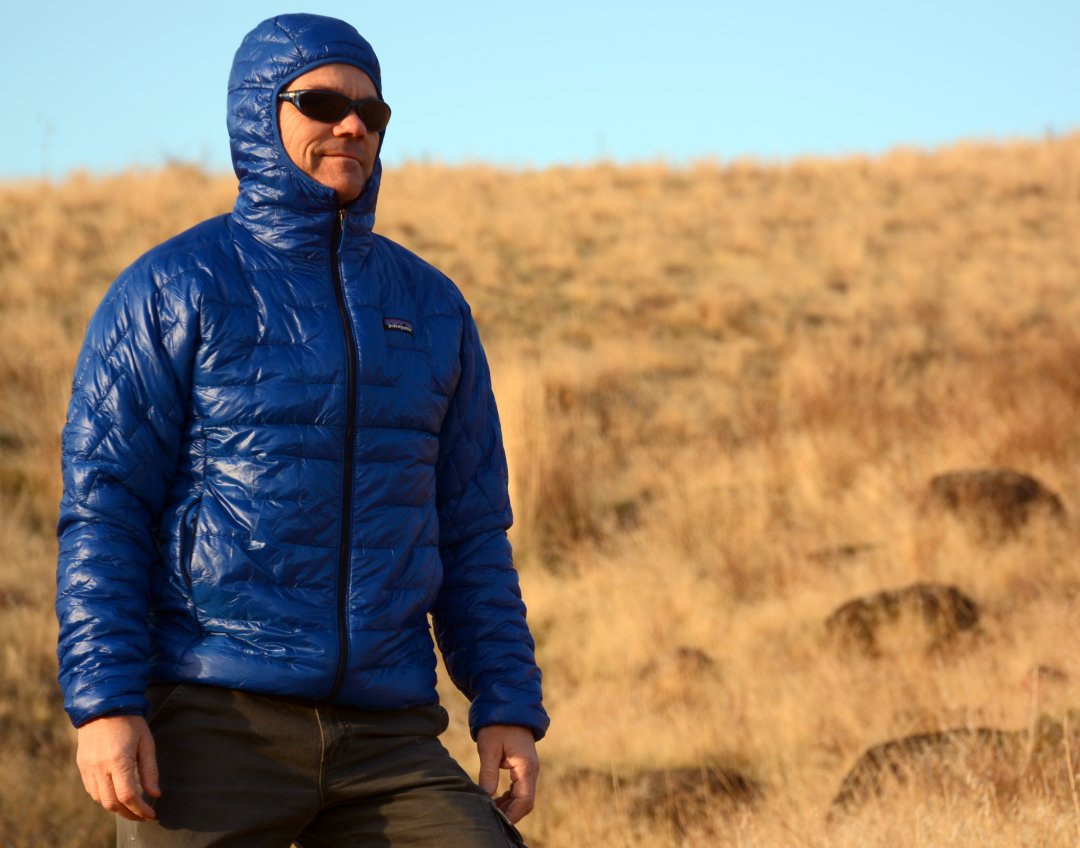 Michael Lanza tests the Patagonia Micro Puff hoodie in Idaho's Boise Mountains. (Photo Credit: Michael Lanza)
The jacket's fit runs true to usual sizing, and the length extends well below the waist—another impressive, warmth-boosting detail, considering this jacket's low weight. The front of the Micro Puff poofs out a bit—it's not an "athletic" or "slim" cut—but not excessively, and that does allow space for a midweight layer underneath it. Similarly, the elasticized cuffs and hem seal tightly enough to keep drafts out.
The ultralight, water-resistant Pertex Quantum nylon ripstop shell blocks wind effectively and sheds light precipitation, thanks to a durable water repellent (DWR) finish. The two zippered hand pockets rewarm numb digits quickly, and the jacket stuffs easily into the left pocket, packing down to the size of a foam football. The lightweight front zipper slides smoothly and appears reasonably durable—we had no problems with it, and as one tester confessed, "I'm hard on zippers—I'm usually just yanking fast to get warm!" All three zippers have pull tabs for grabbing with gloves on. Two inside stuff pockets are big enough for warming or drying winter gloves.
One demerit: The women's jacket we tested sustained a small tear along one seam near the hem, allowing a tiny bit of insulation to begin leaking out. Our tester thinks she may have caught it on a sharp rock. At 10-denier—a measure of the thickness of fibers or filaments in fabric—the shell fabric isn't made for doing rodeo. Patagonia says its lab testing demonstrated that adding weight anywhere—in fabrics, insulation or construction methods—only brought diminishing returns. While 10-denier isn't unique, face fabrics of 15- or 20-denier are common in insulated jackets and generally more durable. Takeaway lesson: Extra care when using any ultralight gear is just smart policy.
Puffy jackets under 10 ounces are often coveted primarily by ultralight backpackers for summer evenings and mornings in camp. But Patagonia's new Micro Puff hoodie for women and men packs serious warmth in a puffy jacket that weighs in barely north of a half-pound, making it ideal for three-season backpacking and day hiking—even deep into shoulder seasons—and as a winter layering piece.
Shop Micro Puff Hoodie – Women's Shop Micro Puff Hoodie – Men's