You have good gear, why shouldn't your best friend? Upgrade your four-legged adventure buddy's kit this year with any of our favorite gift ideas below.
Best Plush Toy for Park Lovers
Bark National Park Plush Dog Toy
Material(s) Polyester fibers/plastic
Stuffing 100% recycled
The doggy-delighting brand Bark teamed up with the National Park Service on some park-wildlife pals that will keep Fido and Fiona happy whether they're prone to snuggling their stuffies or fetching and gumming them. Choose from five different animal options stuffed with 100% recycled material: We're partial to long-winged Perry the Peregrine, big-toothed Steve Beaver and slithery Diamondback Jack, which have squeakers, floppy features for extra whipping and flipping, and even a touch of crinkle.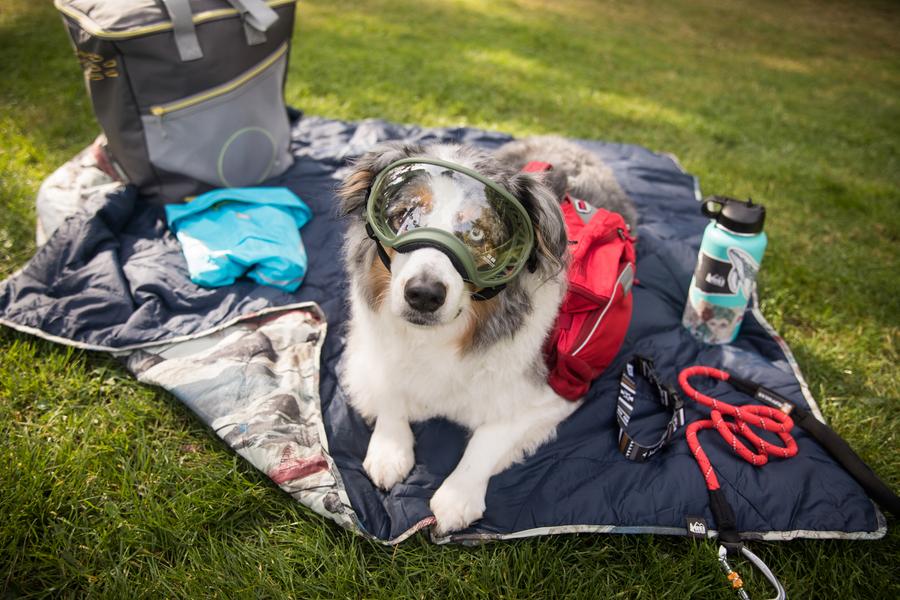 Help protect your dog's peepers from debris, sunshine, glare and haters with Rex Specs. A multi-point connection system loops under the muzzle and behind the ears for a secure, bounce-free fit. (The system isn't as effective on flat-faced or short-nosed doggos, unfortunately.) The interchangeable lenses (each pair comes with clear and dark options) are spherical for a wide field of vision and ultimate drip. $85.95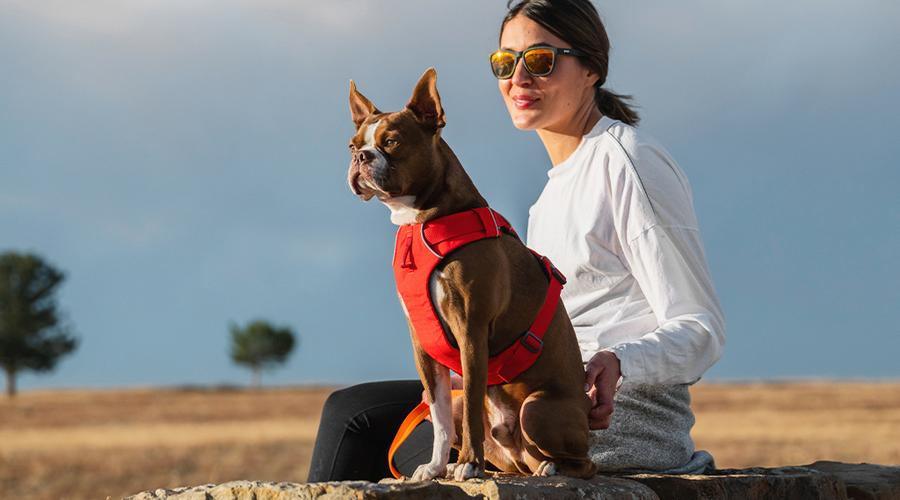 The rough-and-tough gear from Ruffwear is designed to enhance and inspire exploration for daring dogs and their human companions. The company's Front Range Dog Harness does just that, ensuring canine customers are both secure (no slipping out of a collar on the trail) and comfortable thanks to foam-padded construction. Four points of adjustment let you achieve a snug fit while allowing your dog a full range of motion; reflective trim ups your pooch's visibility for after-dark walks; and a leash-attachment point on the chest both deters tugging and is a perfect spot to hang a light. $49.95

Best Outdoor Pet Bed
Snow Peak Dog Cot
Material(s) Aluminum alloy/stainless steel
Dimensions 24 x 24 x 5 in.
Weight 1 lb. 8 oz.
Sleeping on the ground is such a human thing to do. If your dog is above that nonsense, they need the Dog Cot from Snow Peak, maker of Japanese-designed outdoor goods. The cot's stainless-steel frame is lightweight at just a pound and a half, but it boasts enough serious durability ready to support pets up to 30 pounds. The removable, washable canvas cover promises easy cleanup.
Best Dog Sleeping Bag
Ruffwear Highlands Dog Sleeping Bag
Material(s) Shell
Dimensions Medium 33.5 x 25.2 x 2 in./Large 43.3 x 28.3 x 2 in.
Weight Medium 1 lb. 9.6 oz./Large 2 lb. 3.2 oz.
Don't leave Rover out in the cold on your next camping trip. Pack this Highlands Dog Sleeping Bag from Ruffwear, which features lightweight synthetic insulation that's cozy without being cumbersome: It's compressible enough to fit into an included stuff sack. The quick-drying polyester fabric shell does double duty as well, providing a comfortable sleeping surface that's also easy to clean. Entry and egress are easy, thanks to the zippered opening. Heading somewhere super cold? Bring along the Ruffwear Highlands Dog Pad (sold separately) for an extra layer of insulation.
Keep eyes on your best friend after the sun goes down with this light-up collar. Three colorful LEDs (red, green or blue) or optional Disc-O mode illuminate a lightweight polymer tube that you snip to fit around your pooch's neck. It's great for campsite hangouts and after-dark walks or runs to keep your doggo visible to traffic. Micro-USB rechargable battery is ready to go after about 1.5 hours plugged in, and Nite Ize claims a run time of 5.5 hours. $20

Shield your pooch's paws from granite, spiky desert floor, snow, ice, melt chemicals and more with the Ruffwear Grip Trex booties. They slide on easily with a hook-and-loop closure and boast a tacky Vibram outsole that's on par with what's likely on your own shoes. There's a learning curve for the first-time wearer, but it tends to result in a funny video, so keep your phone handy. Note: The Grip Trex are sold in pairs because your dog's front and back paws may be different sizes. $39.95
Best Fetch Toy
Ruffwear Hydro Plane Dog Toy - 8"
Material(s) Nylon/polyester shell, foam filling
Weight 2.4 oz.
Well, isn't that fetching. Not only is the Hydro Plane flying disk toy by Ruffwear attractive in its two-toned Campfire Orange hue (easy to see against most backgrounds), it's also abrasion-resistant and flexible, made with a soft nylon/polyester exterior around a foam filling to go easy on dogs' teeth and gums. But the standout feature of this Retriever-ready toy is a pontoonlike construction that allows it to float on water just as well as it does on air.
Best Shampoo
kin+kind Calming Lavender Natural Waterless Bath for Dogs and Cats
Volume 8 fl. oz.
Weight 9.8 oz.
The term "waterless bath" is music to the ears of any pets (and pet parents) with an aversion to the tub. This sulfate-, paraben- and cruelty-free Waterless Bath product from kin+kind includes calming lavender essential oil as well as coconut and olive oil that are gentle on skin. Simply rub the cleansing soap foam into your pup's coat and let it air-dry. No wetting, rinsing or hosing-off required.
Best Collar
Wolfgang Man & Beast OverLand Collar
Fits Small 8–12 in.
Weight Small 1 oz.
Fashion meets function in this collar, which has a starry alpine motif that's perfect for four-legged adventure partners. Other than that, the OverLand has standard specs: polyester webbing, nylon buckle, steel D-ring. Nice touch: Wolfgang Man & Beast's lifetime warranty.
Best Pet Skincare Product
kin+kind Organic Nose and Paw Moisturizer Stick for Dogs and Cats
Weight 3.5 oz.
Sustainability Certified organic
Your doggo might love dashing through the snow, but cold temps and harsh conditions can wreak havoc on their sensitive paws and snouts. The Organic Nose and Paw Moisturizer from kin+kind keeps them protected as they play and relieves dry or cracked skin. It's also good for protecting paws against hot summer sidewalks. Plus, this easy-to-apply roll-on product is certified organic and cruelty-free, and each ingredient is vet-approved.
Need more inspiration? Check out our Best Gifts for Less Than $50, Best Gifts for Outdoorsy Kids, Best Gifts for Runners, Best Gifts for Campers, Best Gifts for Skiers, Best Gifts for Hikers and Best Gifts for Snowboarders.