You're looking at gear—let's say you're paging through a rack of jackets, or clicking through some options online—when a phrase catches your eye: "Now made with recycled materials." You pause and think for a second. That's cool. So the company just … went out and picked a better fabric?
Turns out, it's a bit more complicated than that.
When asked if people understood the process and effort involved in redesigning a high-performance product with lower-impact materials, Ash Price, senior pack designer for REI Co-op brands, let out a wry laugh. "I wish people knew."
Thanks to industrial innovation, brand dedication to sustainability and plenty of behind-the-scenes sweat equity, you can now get a growing number of outdoor essentials with a lighter environmental footprint—without losing an ounce of performance.
These three items not only come with sustainability cred, they also come with fascinating stories. Among other things, you'll hear about the strategic uses of rice husks and an epiphany related to rectangles.
Rainwear, Reborn
Marmot Phoenix Rain Jacket ($175)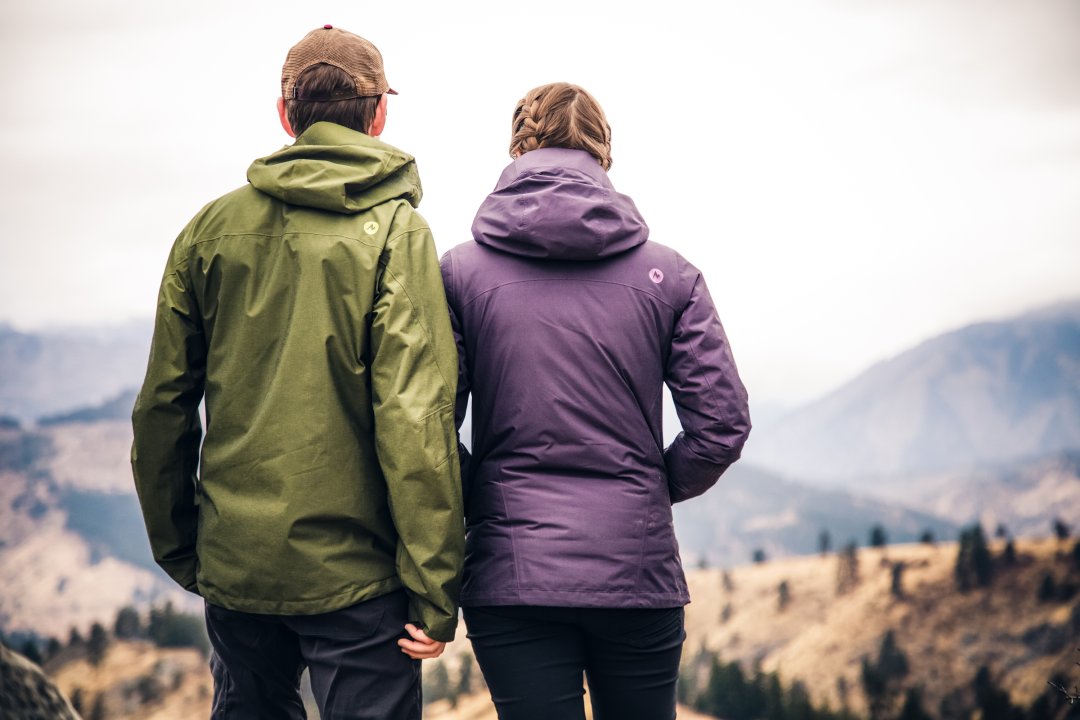 Elevator pitch: Waterproof, breathable, sleekly styled rain jacket made with 100% recycled materials.
The down-and-dirty: "It's essential for brands to work on foundational sustainability practices in the product design and manufacturing process. It's great to also see brands innovating in a way that reduces a product's impact," said Greg Gausewitz, product sustainability manager at REI. "It's through innovation that we get new ways of making products to move the industry forward."
The Marmot Phoenix rain jacket and its proprietary EVODry technology are a great example of industry-shifting innovation. Warning: Acronym mayhem ahead.
Many rain jackets are treated with a durable water repellent (DWR) finish that uses per- and polyfluoroalkyl substances (PFASs), synthetic compounds that don't break down in the environment and can accumulate in humans and wildlife. For the Phoenix jacket, Marmot skipped the DWR, instead partnering with textile innovator Green Theme International (GTI) to apply a Breathable Water ProtectionTM (BWP) finish.
GTI's application process bonds the BWP to the thread—Marmot describes this as "molecular level waterproofing"—creating a "super hydrophobic finish that never washes or wears off." Bonus: The application process doesn't use any water.
Marmot also made the Phoenix with MemBrain® Eco and a recycled nylon face fabric, which is bluesign® approved.
Whoa factor: The water repellent won't wash off or wear out, so you'll never need to reapply it, Marmot says. Tl;dr no water contamination, no persistent perfluorinated chemicals, no hassle, everybody wins.
Walking the Talk
KEEN Newport Eco Sandals – Women's ($99.95)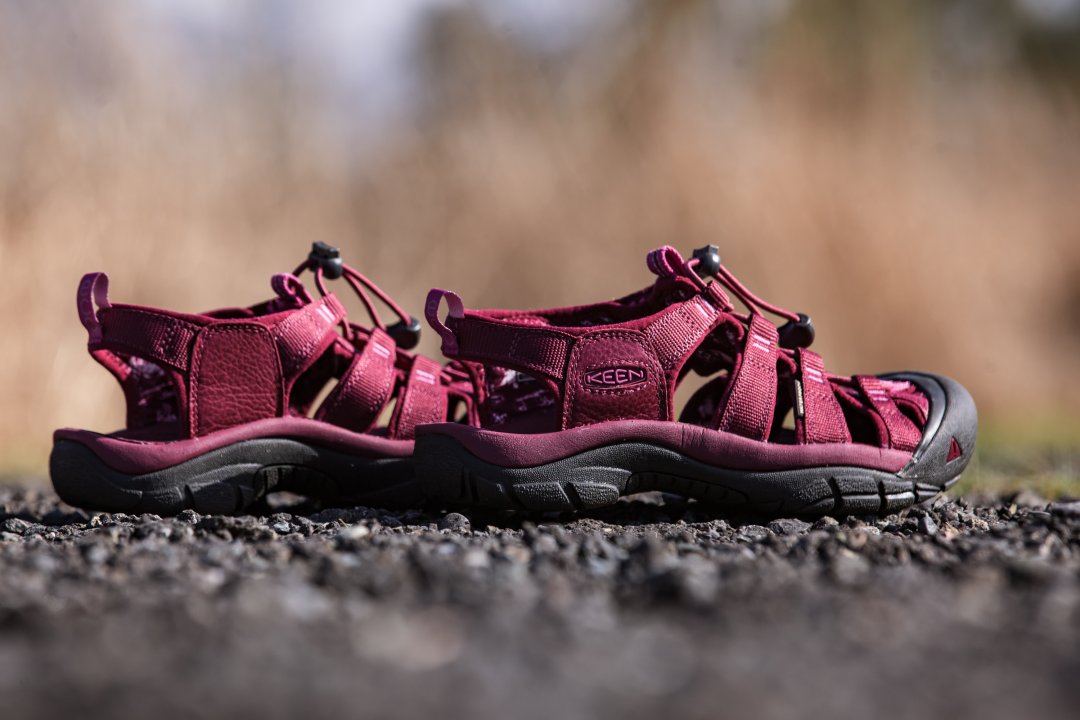 Elevator pitch: Exactly like the classic KEEN Newport sandals we all know and love, but with a lighter footprint.
The down-and-dirty: "This is an awesome product-sustainability story," Gausewitz said. "First, because [it's] a classic product that KEEN has had on the market for a long time that the customer has loved. Secondly, because KEEN looked at all these different ways they could redesign the sandals to reduce the environmental impact while retaining the same look and performance."
KEEN created the Newport Eco as part of a collection celebrating the 15th anniversary of the Newport's launch and its fans, adventures and future.
Whoa factors: So much whoa. The KEEN Newport Eco sandals feature sneaky sustainability-focused attributes from sole to straps.
The webbing? Washable recycled P.E.T. polyester made from used bottles and other pre- and post-consumer waste.
The leather? Made of "environmentally preferred" leather from a tannery certified by the Leather Working Group. The Leather Working Group audits and grades tanneries for their environmental-impact avoidance and mitigation practices.
The anti-odor treatment? Cleansport NXT™, which is probiotics-based, with zero VOCS (volatile organic chemicals) or other harmful chemicals.
The soles? Augmented with rice husks, which enhances traction on slippery surfaces and fractionally reduces the amount of petroleum-based material required.
Details here: Women's
A Lighter Load
REI Co-op Traverse Pack Line ($139-289)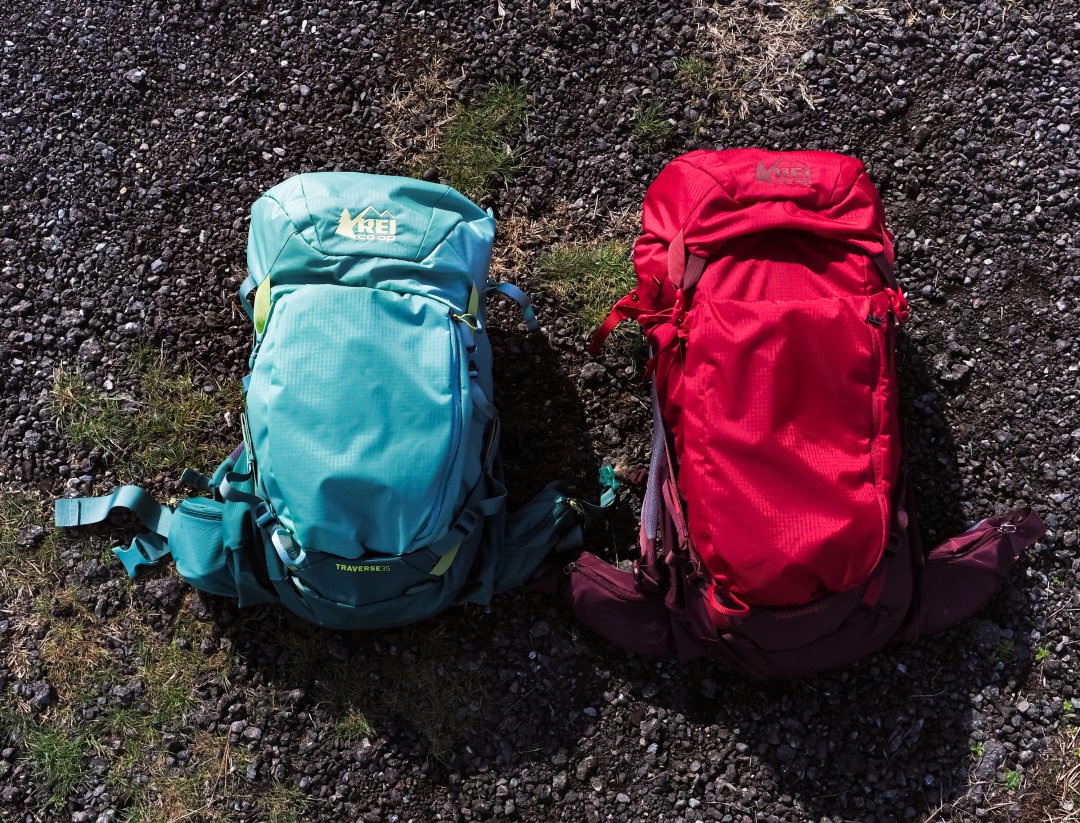 Elevator pitch: The bestselling pack line has been redesigned from the threads up for improved usability and lower environmental impact, thanks to 100% recycled body fabric.
The down-and-dirty: It started with a professional hunch. The product design team had long suspected that fabric had the biggest environmental impact of a product's life cycle. As they embarked on a redesign of the Traverse pack line, they decided to pursue the option of using recycled fabric for the body of the pack.
Emphasis on "pursue." While they ultimately triumphed in those efforts, heroic persistence was required. More on that in a second.
"We chose to focus [our sustainability efforts] on the Traverse pack line because it's one of our top sellers, and because we envision the Traverse user as someone who sees time outdoors as being about the whole journey," said Ash Price, senior pack designer for REI Co-op brands. "It seemed to fit."
The decision to pursue recycled fabric was reinforced by a group of grad students from the Duke University Nicholas School of the Environment, who performed an LCA, or environmental life-cycle assessment, to quantify the cradle-to-grave impact of six bestselling REI Co-op brand products, including the Trail 40 pack. The LCA examines impacts on climate, water, land, chemicals and human health.
The analysis showed fabric had the biggest environmental impact of the Trail 40's life cycle, accounting for 81 percent of its global-warming potential, 48 percent of its water consumption, 72 percent of its energy consumption, and 75 percent of its eutrophication (a type of water pollution that causes damaging algae overgrowth and oxygen depletion).
Decision validated! But the team quickly hit a snag. Pun absolutely intended. See, the Traverse is a high-performance product—an eco-friendlier replacement fabric would need to hit stringent weight, durability and tensile-strength benchmarks without sending production costs into the stratosphere.
Slight problem: No such fabric existed. So the REI team rolled up their sleeves and designed their own.
"We started with industrial waste," said Ryan Williams, senior material designer for REI Co-op brands. Specifically, they started with nylon yarn waste destined for the landfill. That waste can be turned into new yarn. "The term is 'pre-consumer.' These are materials that would otherwise be industrial waste; we're trying to divert that into something useful."
The team worked with a specialty mill on round after round of samples until—finally!—they arrived at a light-enough, strong-enough, tough-enough fabric that wouldn't break the bank.
They didn't stop with the fabric though; the redesign touched every piece of the pack.
"There was quite a bit of simplifying," Price said. "As soon as a product hits the shelves, we get a ton of feedback. People have strong opinions about backpacking gear. We gather as many reviews as we can find and address as many issues as we can. For example, we tried to make it easier to adjust the torso length. We changed the pockets. We refined pretty much every little detail."
One season of the new Traverse pack line will use 392,497 square feet of fabric. Picture a piece of fabric five feet wide and 15 miles long.
To put it another way: All in all, after more than a year of work and thousands of person-hours in design, development and testing, the new Traverse pack line will keep the material equivalent of over nine acres of fabric out of the landfill.
Whoa factor: Can we just take a minute and be impressed by this team's dedication? When the REI Co-op product designers couldn't find recycled fabric that ticked all their performance and price boxes, they forged ahead by developing their own fabric from scratch.
A Final Word on Sustainability
"We want to make it easy for customers to shop for products that support their values," said Gausewitz. "At REI, we're building out additional resources to help customers learn more about products' sustainability features and be empowered to make informed decisions. We're offering products like the ones in this article, and highlighting products that are made in ways that support sustainability."
You may have noticed that now, when you search for a product on REI.com, one of the filter options is actually called "Sustainability." Individual product pages also showcase their sustainability features. The idea is to make it easier for you to shop your values.
You can also do so by shopping for gently used gear through REI Used Gear, currently in beta testing. Gausewitz described the REI Used Gear Beta as "a big sustainability victory."
Here's to many more of those.