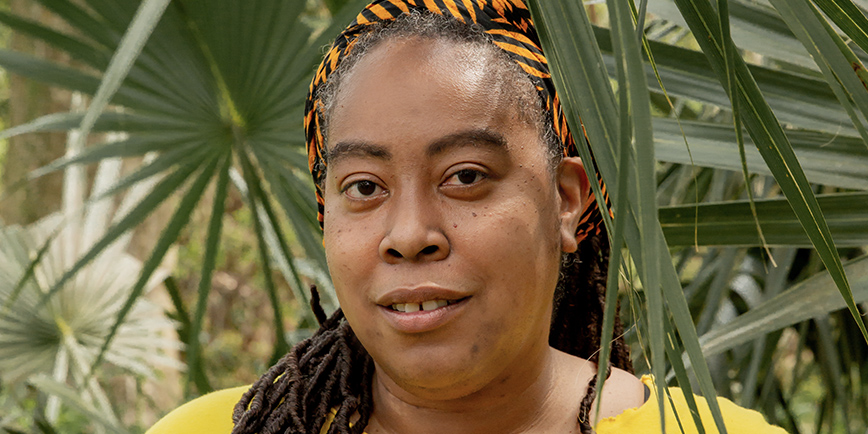 REI Co-op Studios partners with filmmaker Angela Tucker to release film series, "The Trees Remember"
New short films examine the pivotal ways the outdoors connects us through generations
May 26, 2021
This Thursday, REI will debut a short-film trilogy written and directed by accomplished filmmaker Angela Tucker. Spanning across 60 years, "The Trees Remember" is a series of compelling, reflective, and sometimes humorous short fiction films that feature Black women of different ages growing and thriving in the outdoors and exploring connection through movement, stewardship, and grace.
"'The Trees Remember' is a very personal collection of films," said Angela Tucker, writer and director. When my best friend Isha Chari and I decided to collaborate, we wanted to tell stories that feature Black women having a moment of connection and love in the outdoors. The series provides much-needed representation of Black joy and I'm hoping audiences enjoy it."
The three-film series includes:
"Migration" (based in 2020): In the time of COVID, Pepper has barely left her home in New Orleans. She must decide if she is willing and able to venture outdoors during a pandemic. As she comes to see the meditative aspects of birding, she learns that nature can bring together strangers when we are at our most disconnected.
"Maintenance" (based in 1990): Nia and Franklin are a bickering couple weathering a rough patch in their marriage. While deciding whether to leave Philadelphia to be closer to nature, they take a trail maintenance class from a park ranger and learn the importance of maintaining something you love.
"Movement" (based in 1960): Carmella takes her daughter, Jojo, a disinterested teenager, on a fishing trip. Wanting to make sure that her daughter is grounded in her roots, Carmella passes on the need for strength and resilience during the burgeoning civil rights movement. Based on real life events.
The series is co-produced by REI's Co-op Studios, the newly announced content arm that challenges the historically narrow definition of the outdoors in storytelling and representation.
"We're honored to work with Angela, and collaborate with such a talented storyteller and filmmaker," said Hanna Boyd, REI Co-op Studios producer. "In each film, the outdoors serves as a backdrop to moments of growth and understanding. We are excited to bring these films to our audience and hope they spark appreciation for all of the experiences the outdoors makes possible."
Angela Tucker will host live conversations on REI's Instagram at 10 a.m. and 1 p.m. PT on May 27, where she will discuss the meaning behind her films and the importance of representation in the outdoor community with Corina Newsome, ornithologist and co-organizer of Black Birders Week, and Rue Mapp, CEO and Founder of Outdoor Afro. The film series will be shown at outdoor screenings hosted by BlackStar Film Festival (June 13) and New Orleans Film Festival (July 8). Other screenings to be confirmed later.
This release and the announcement of REI Co-op Studios continue the co-op's ongoing commitment to elevate the stories of those who have been underrepresented and under-resourced in the outdoor industry. You can watch REI's full collection of content for free in its cinematic library.
About Angela Tucker
Angela Tucker is a writer, director and Emmy-nominated producer who specializes in narrative and documentary filmmaking. Recent projects include I Can't Change 400 Years in Four (co-directed with Kristi Jacobson), which streams on Mother Jones and PBS Independent Lens. In addition to her short documentary All Skinfolk, Ain't Kinfolk, which aired on PBS' Reel South. Angela Tucker's directorial work also includes: "All Styles," a dance narrative feature available on Showtime; "Black Folk Don't," a documentary web series featured in Time magazine's "10 Ideas That Are Changing Your Life;" and "(A)sexual," a feature-length documentary about people who experience no sexual attraction that streamed on Netflix and Hulu. She was the Producer of the Peabody-nominated, "Belly of the Beast" (dir. Erika Cohn) which broadcast on PBS' Independent Lens and was a New York Times Critics' Pick. Her production company, TuckerGurl, is passionate about stories that highlight underrepresented communities in unconventional ways. In addition to being a Sundance Institute Women Filmmakers Initiative Fellow, Tucker received the inaugural William Greaves Fund from Firelight Media and earned her MFA in Film from Columbia University. She is represented by Artists First management, under Corrine Aquino and Haley Jones.
About the REI Co-op
REI is a specialty outdoor retailer, headquartered near Seattle. The nation's largest consumer co-op, REI is a growing community of more than 20 million members who expect and love the best quality gear, inspiring expert classes and trips, and outstanding customer service. REI has 168 locations in 39 states and the District of Columbia. If you can't visit a store, you can shop at REI.com, REI Outlet or the REI shopping app. REI isn't just about gear. Adventurers can take the trip of a lifetime with REI's active adventure travel company that runs more than 100 itineraries across the country. In many communities where REI has a presence, professionally trained instructors share their expertise by hosting beginner-to advanced-level classes and workshops about a wide range of activities. To build on the infrastructure that makes life outside possible, REI invests millions annually in hundreds of local and national nonprofits that create access to—and steward—the outdoor places that inspire us all.