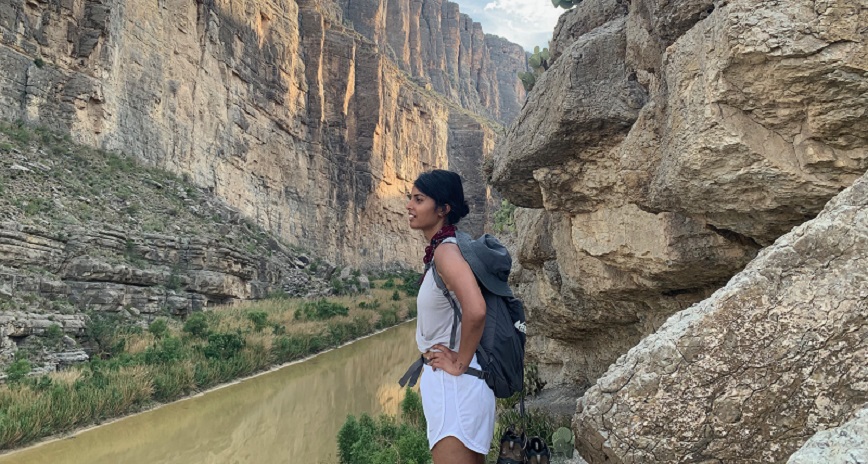 REI Co-op Studios and Dustlight Productions release "Hello, Nature," a new outdoor podcast series exploring BIPOC perspectives and rarely shared history of America's National Parks
Sep 17, 2021
REI Co-op Studios and Dustlight Productions announce the production of "Hello, Nature," a new podcast series that tours America's National Parks through the eyes of Pakistani-American writer, podcast host and producer Misha Euceph. The series features nearly all Black, Indigenous and people of color (BIPOC), and shares intriguing stories about access to public lands and the history and work done in the parks by BIPOC individuals.
"Hello, Nature" is sponsored by Subaru, and is the latest project from REI Co-op Studios, the retailer's in-house content arm. The first episode on Yosemite is live now, and seven more episodes will drop every Friday through November 5, on Apple Podcasts, Spotify and other podcast platforms.
"As REI's podcast listenership increases, we have a responsibility to engage our member community and future members with new shows that inspire them and challenge historically narrow depictions of the outdoors," said Paolo Mottola, REI's director of content and media. "In "Hello, Nature," Misha takes listeners on an adventure connecting with diverse experts, sharing her personal anecdotes and confronting the parks' history with a lens on representation and inclusion."
Misha is the founder and CEO of Dustlight Productions and the executive producer on "Renegades: Born in the USA" and "The Michelle Obama Podcast." In "Hello Nature," Misha takes listeners along as she explores the national parks in her Subaru Outback and seeks answers to her question, "if the parks are public, aren't they supposed to be for everyone?"
"Nature for me has been a place of reverence, awe and healing. I want to share that with other people like me," said Euceph. "To really make the outdoors accessible to BIPOC folks, we need to center ourselves in the story that's told about these places. We have always been here, from indigenous people who have lived in these lands long before American colonization and genocide, to enslaved people who first explored Mammoth Cave to AAPI scientists and artists, to present day LGBTQ+ outdoor recreation groups. And we will always be here. It's finally time our voices tell the story of the National Parks, and the story of America."
This podcast series is part of REI's goal to prioritize storytelling from BIPOC, LGBTQ+ and other historically underrepresented communities and groups, as well as stories that reflect the human impact on and opportunity to protect the environment.
"This podcast provides a new, in-depth perspective of our national parks," said Chelsea Davis, REI Co-op senior program manager and content strategist. "We hope listeners walk away with a new understanding of the parks and are inspired to visit and protect these places."
Across films, podcasts, and editorial programs, REI Co-op Studios develops and produces stories that entertain, enrich, and explore the power of time spent outside, while complementing the co-op's broader climate and racial equity, diversity, and inclusion commitments. Other podcasts produced by REI Co-op Studios include "Wild Ideas Worth Living," conversations with people who took the path less traveled and brought their wildest ideas to life; "Camp Monsters," stories about mysterious creatures; and "Wildfire," an investigation of the 2017 Eagle Creek Fire; all available for streaming on Apple Podcast, Spotify, and other podcast platforms.

About Dustlight Productions
Dustlight Productions is a mission-driven production and training house behind "The Michelle Obama Podcast," "Renegades: Born in the USA," "Tell Them, I Am," and "How to Citizen with Baratunde" Seasons 2 and 3. Dustlight is an ethical entertainment company that makes highly produced, beautiful shows to inspire awe and center BIPOC stories. Their award-winning work has been featured in the New York Times, IndieWire, Vogue, Vulture, The Atlantic, Time and more. They are invested in equity for BIPOC and LGBTQ+ creators in entertainment, and they also train apprentices and host public trainings, incubators and provide free resources to help build the next class of leaders in audio. 
About the REI Co-op
REI is a specialty outdoor retailer, headquartered near Seattle. The nation's largest consumer co-op, REI is a growing community of more than 20 million members who expect and love the best quality gear, inspiring expert classes and trips, and outstanding customer service. REI has 171 locations in 39 states and the District of Columbia. If you can't visit a store, you can shop at REI.com, REI Outlet or the REI shopping app. REI isn't just about gear. Adventurers can take the trip of a lifetime with REI's active adventure travel company that runs more than 100 itineraries across the country. In many communities where REI has a presence, professionally trained instructors share their expertise by hosting beginner-to advanced-level classes and workshops about a wide range of activities. To build on the infrastructure that makes life outside possible, REI invests millions annually in hundreds of local and national nonprofits that create access to—and steward—the outdoor places that inspire us all.