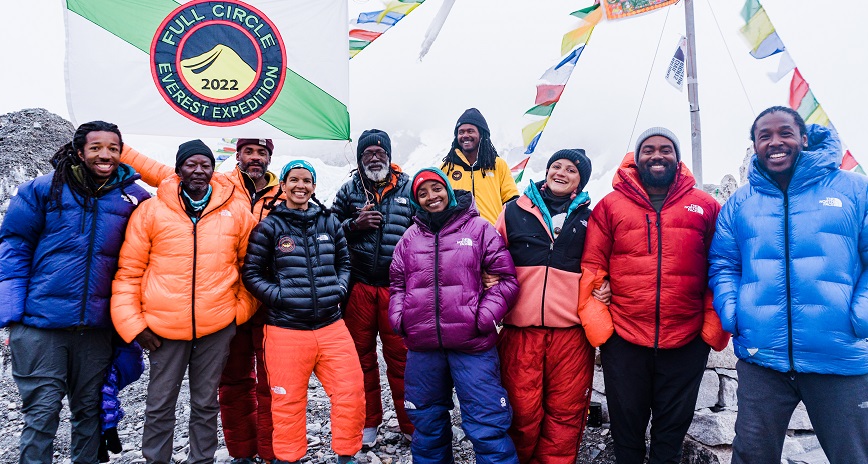 REI Co-op Studios and Westbrook Studios to produce documentary feature, chronicling the Full Circle Expedition: First all-Black team to summit Mount Everest
Acclaimed Filmmakers, Rolake Bamgbose and Justice A. Whitaker, helm the project documenting the historic climb in feature directorial debut
May 23, 2022
The Documentary follows nine athletes as they shift the legacy in a white dominated sport while experiencing a unique global cultural exchange during their triumphant journey to the top of the famous peak. The team includes: two professional climbers for The North Face Manoah Aniuu and Fred Campbell, as well as Abby Dione, James Kagambi, Thomas Moore, Demond Mullins, Rosemary Saal, Eddie Taylor, and team leader Philip Henderson including team photographer Evan Green and communications tech/researcher Adina Scott
Bamgbose and Whitaker began discussing documenting the Full Circle Everest Expedition in early 2020 with team leader Phil Henderson. For the project, which marks their feature directorial debut and the first project they co-directed together, the creative husband and wife duo were granted exclusive access to document the first ascent of Mt. Everest by an all-Black climbing expedition in world history. Rooted in the story of the Everest ascent and the year of training the climbers underwent as a team, the film's true emotional anchor is embedded in the individual journeys undertaken by each of the climbers, representing the diversity of the Black experience in the outdoor community.
"We are thrilled to collaborate with such an incredible filmmaking team in sharing the story of this historic expedition that is breaking barriers in the world of mountaineering," said Westbrook Studios SVP, Head of Documentaries, Jannat Gargi. "These are exactly the types of stories that Westbrook Studios strives to tell, inspiring others to dream big and live their true purpose. We are honored for this inspiring project to be the first documentary on our slate and to bring this truly once-in-a-lifetime story to a global audience."
"REI Co-op Studios is committed to producing transformative stories that challenge historically-narrow depictions of what it means to be outside and who the outdoors is for," says Paolo Mottola, REI Co-op's director of content and media. "We're honored to support filmmakers Bamgbose and Whitaker in their vision, help celebrate the Full Circle team's achievement, and contribute to a more equitable outdoor community."
"It is an honor to co-direct this film. The Full Circle Expedition represents the next step in our lifetime of cinematic work focused on increasing visibility for Black stories and we are thrilled to be producing along with Westbrook and REI Co-op Studios on this groundbreaking and historic project," said Bamgbose and Whitaker. "This has been an incredible journey, and the relationships that we have with individual members of the team are the bonds that makes this type of project possible. Much like the expedition itself, we are bringing a fresh vision to the world of climbing and outdoor films."
Westbrook Studios SVP, Head of Documentaries Jannat Gargi is an award-winning creative producer and film executive. Gargi, who joined Westbrook Studios in 2021, most recently executive produced the Academy Award-winning documentary Summer of Soul (...Or, When the Revolution Could Not Be Televised), three-time Academy Award-nominated documentary, FLEE and Academy Award nominated short documentary, Lead Me Home. Prior to joining Westbrook, Gargi served as SVP of Documentaries for VICE Studios, the global production division of VICE Media Group (VMG), where she led programming strategy and content development focusing on docuseries and feature documentaries.
Bamgbose is an award-winning filmmaker with more than 15 years' experience producing and directing compelling documentaries, short films, and television news content. She received a 2020 News & Documentary Emmy® nomination for directing and producing "Connected to the World," a one-hour special feature for The Weekly, the New York Times' first original documentary series. She also received a 2017 News and Documentary Emmy® nomination for "Stand and Up and Kneel," a short film she directed and produced for HBO's Vice News Tonight, about the impact of Colin Kaepernick's protest, which led a California high school football team into a candid and honest conversation about race and policing in America. She most recently produced the Antoine Fuqua directed The Day Sports Stood Still, and is currently co-directing Supreme Models (YouTube), a six-part series that will pay tribute to the Black women who broke down barriers and transformed the fashion and beauty industries.
Whitaker is an independent writer, director, and producer, focused on illuminating Black stories through his work. Most recently he directed the documentary Restrictions Apply (Best Short Documentary Urban Media Makers Film Festival) and has written children's media for Sesame Street and Moonbug Entertainment (WGA). He is currently directing branded content with Courageous Studios. Whitaker is also a professor of non-fiction storytelling, and narrative screenwriting at Pratt University's Film School in Brooklyn.
Team leader, Philip Henderson, has spent decades in the outdoor industry and has long dreamt of changing the history of representation. This vision became a reality when he assembled the Full Circle Everest Expedition and this group of climbers made history, nearly doubling the number of Black climbers to summit Mount Everest. This historic attempt will inspire the next generation of outdoor enthusiasts, educators, leaders, and mountaineers of color to continue chasing their personal summits.
UTA Independent Film Group is handling worldwide sales for the film. Bamgbose and Whitaker are represented by UTA.
About REI Co-op Studios
REI Co-op Studios is the retailer's in-house content arm. Across films, podcasts and editorial programs, the studio develops and produces stories that entertain, enrich, and explore the power of time spent outside, while complementing the co-op's broader climate and racial equity, diversity, and inclusion commitment. The studio's slate includes forthcoming feature films SPACE ODDITY and FRYBREAD FACE AND ME.
About the REI Co-op
REI is a specialty outdoor retailer, headquartered near Seattle. The nation's largest consumer co-op, REI is a growing community of 21.5 million members who expect and love the best quality gear, inspiring expert classes and trips, and outstanding customer service. REI has 175 locations in 41 states and the District of Columbia. If you can't visit a store, you can shop at REI.com, REI Outlet or the REI shopping app. REI isn't just about gear. Adventurers can take the trip of a lifetime with REI's active adventure travel company that runs more than 100 itineraries across the country. In many communities where REI has a presence, professionally trained instructors share their expertise by hosting beginner-to advanced-level classes and workshops about a wide range of activities. To build on the infrastructure that makes life outside possible, REI invests millions annually in hundreds of local and national nonprofits that create access to—and steward—the outdoor places that inspire us all.